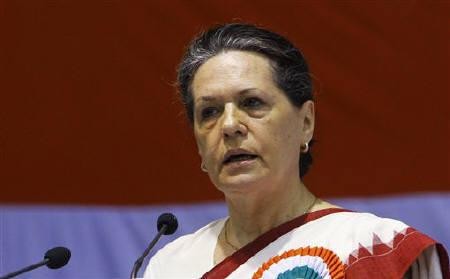 UPA chairperson Sonia Gandhi on Monday arrived in Assam on concerns over the refugees affected by the recent communal clashes, which claimed 77 lives and left over 400,000 homeless.
After taking stock of the situation at the relief camps in the lower regions, the Congress head said in a statement to Press Trust of India, "Naturally all refugees want to go back home, but this will take some more time till the situation is a little calmer."
She was accompanied by Union Home Minister Sushil Kumar Shinde, Assam Chief Minister Tarun Gogoi, Assam Pradesh Congress chief Bhubaneswar Kalita, Bodo land Territorial Council chief Hagrama Mohilary and state ministers.
Gandhi met several inmates at the Kokrajahar and Dhubri camps and posed questions on their present conditions. She also underlined the need for more food and medical aid to be brought to the shelters.
"Once feelings are assuaged, the Chief Minister and others will make sure that the inmates are able to go home," she said.
Earlier in August, Chief Minister Gogoi set Aug 15 as the deadline for the camps to be vacated, which refugees have expressed concern over the unlikely target. "Our village has been completely burnt down, and we are scared to go back home. We don't think it will be possible for us to return home by Aug 15 as promised by the Chief Minister because the situation is not right," NDTV quoted a refugee as saying.
The sectarian violence, which broke out between Bodos and Bengali speaking migrants in July, worsened after the Bengali migrants decided to retaliate. Over 150 people were arrested in connection with the riots. The Central government recently said it will convene a meeting in Parliament over the situation in Assam.
Though the state is limping back to normalcy, Gandhi's visit to the riot-hit areas pointed to her worries over the current predicaments of the region, following last week's spillover of the Assam clashes to a Mumbai rally, where 2 people were killed and over 50 others were injured.
Gandhi sanctioned her visit to Assam almost three weeks after the clashes, for which she has been criticized by various political parties. Reports said that her arrival is viewed as an attempt by the Congress to elicit support from minority groups, which are most affected by the communal killings in the state.