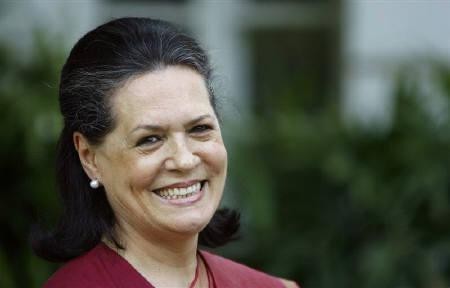 United Progressive Alliance (UPA) Chairperson Sonia Gandhi has urged the Prime Minister Narendra Modi to grant special category status to residual Andhra Pradesh/Seemandhra (AP) and to execute work on Polavaram multi-purpose irrigation project, which could benefit both states - Telangana and AP.
Polavaram dam is proposed to irrigate the drought-hit Rayalaseema and other parts of the region.
In a letter to Modi, Sonia said that the previous UPA government had made commitments to the residual AP. She extended all cooperation to the Union government to implement all promises made by the previous government and requested the government to help AP to build its new capital city and extend all fiscal aid required to the new state.
It is said that groundwork has been done by UPA for Polavaram irrigation project and Modi government can take the project further forward for implementation.
She reminded Modi on the commitments made to AP by former Prime Minister Manmohan Singh and the then home minister Sushilkumar Shinde on the floor of Rajya Sabha on 20 February.
She recalled the drafting of Andhra Pradesh Reorganisation Act 2014, which granted Telangana state out of the united AP. The Act has made various other commitments to the residual AP or Seemandhra region, Gandhi said.
Congress leaders and former union ministers Jairam Ramesh and K Chiranjeevi termed Sonia Gandhi's letter as a very significant one.
Ramesh said that UPA government made many commitments to AP and now it is the onus of Modi government to implement them.
Chiranjeevi said that a suggestion has been made to Sonia Gandhi to form a monitoring committee, headed by Andhra Pradesh Congress Committee (APCC) chief Raghuveera Reddy, to work like a watchdog on the implementation of all promises made by UPA in the Andhra Pradesh Reorganisation Act 2014.
Protests against Polavaram project
Meanwhile, a strong opposition against the proposed multi-purpose Polavaram irrigational project has been expressed by Telangana and Odisha chief ministers, say media reports.
The Modi-led Union Cabinet in its first meeting, last week, cleared an ordinance on Polavaram project, paving way for transfer of seven mandals or 136 villages of Khammam district in Telangana state to residual Andhra Pradesh, which triggered a complete shutdown protest in Telangana.
President Pranab Mukherjee promulgated the ordinance immediately prompting the then chief minister-designate K Chandrasekhar Rao to call for a a state-wide shutdown protest in Telangana.
The shutdown was also observed in the seven mandals, in Polavaram submerge area, by CPI (M) activists against the transfer of the seven mandals to AP.
Opposing the Centre's ordinance on Polavaram dam, Koya tribals in and around the project site also protested last Sunday. The protestors, drawn from Odisha, Chhattisgarh and Telangana, gathered at Motu village in Malkangiri district of Odisha and expressed their opposition to the project.
Media reports say that construction of Polavaram dam is being opposed by Telangana, Odisha, Chhattisgarh and Maharashtra and some of the states have already approached legal tribunals to stall the project, citing many reasons.