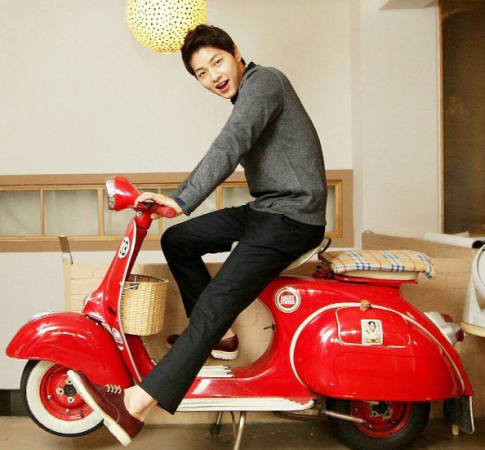 "Descendants of the Sun" actor Song Joong Ki recently praised his friend Park Bo Gum's new project "Moonlight Drawn by Clouds," which has been receiving rave reviews ever since it premiered in August.
Expressing his surprise at the success of the historical romance drama, Song Joong Ki said he was confident it would do well, "but I didn't know that it would do this well. I'm sincerely thankful, and want to thank everyone for loving Bo Gum," he was quoted as saying by Soompi.
Both Park Bo Gum and Song Joong Ki are represented by Blossom Entertainment.
Song Joong Ki also expressed a desire to work with Park Bo Gum, saying: "It would be great to play brothers some time, or even two guys that fight over the same girl. Regardless, I would like to work with [Park Bo Gum] in a project."
Not surprisingly, fans are excited, and a good number of them have expressed an interest to see them portraying roles that will highlight their bromance. "Just act as brothers in a drama please and not as rival against one girl," noted one fan on Soompi, adding: "If that happens I wouldn't know who to root for at all. LOL I will probably just root for the bromance to happen and get the girl out the picture."
Another added: "The acting talent would be through the roof if you got them together in a drama!!!"
Meanwhile, Song Joong Ki had a mini reunion with his "Descendants of the Sun" co-star David McInnis at the Seoul Drama Awards 2016 on Sept. 8, and the latter on Saturday posted a picture of them on his Instagram page.
"Reunited back stage with my bro #songjoongki #bigboss CONGRATS on Best Actor award at the #seouldramaawards #seouldramaawards2016 #seoul #2016 #태양의후예," he captioned the picture.