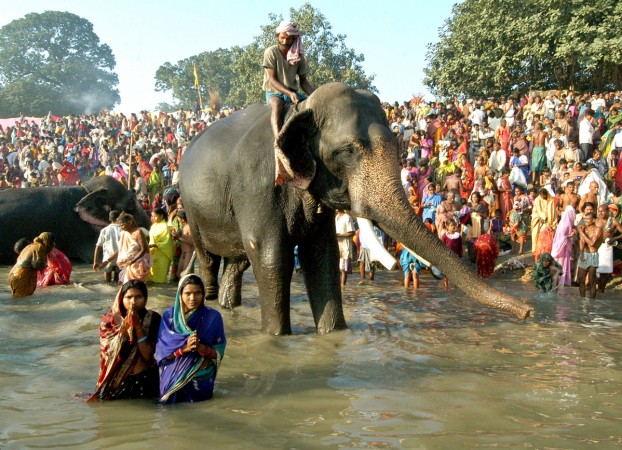 Indians love to celebrate, be it the sun, the moon, rivers, seasons, animals or mountains and they find pride in celebrating everything the nature has offered. Held every year on a full moon day during the month of Kartik (November-December), Sonepur Cattle Mela is the largest livestock fair in Asia.
The celebration for this year's fair started in Sonepur, near Bihar's capital city Patna on 6 November, the Kartik Poornima or Full Moon Day, and will conclude on 4 December. Held at the confluence of Ganga and Gandak rivers, the Sonepur Mela, also known as Malegaon Mela and Harihar Kshetra Mela, attracts visitors from all over the continent.
The Malegaon Mela started in the 3rd century BC, when Chandragunpta Maurya, the first emperor to unify most of Greater India, used to buy elephants and horses. In ancient times, it used to attract traders from far off places who traded elephants, horses, cattle, birds, donkeys, ponies and dogs.
Although elephants are no longer on sale officially, over 20 elephants arrived for the fair this year. Allegedly, their sales is said to happen behind closed doors.
In 2014, Sonepur Mela saw the sale of over 25,000 cattle, according to a report. "This year in the first two days there were over 5000 goats at the goat market, which is expected to be sold in the first week, if we get a good response, we will bring more livestock," said a goat trader, Suresh Rathod, from Rajasthan.
Over the years, the largest cattle mela in Asia, organised by the Bihar State Tourism Development Corporation has transformed into a haven of marketing opportunities for giant corporations to woo rural buyers. The advertising rights for the Harihar Kshetra Mela, was won this year by a rural marketing agency, Impact Communications, for the second year in a row.
With a massive number of merchandise stalls with music, dance and games, Sonepur Mela offers the visitors the opportunity to enjoy the sights, the sounds and the shopping in a unique way.