After Abhay Deol targeted several Bollywood stars, including Sonam Kapoor, on social media for endorsing fairness creams, the Neerja actress hit back at him on Twitter. However, she instead got trolled, and eventually deleted her tweets.
Sonam Kapoor makes a surprising comment about Shah Rukh Khan
Abhay had yesterday shared some screenshots of popular Bollywood celebs like Shah Rukh Khan, Deepika Padukone and Sonam Kapoor among others, endorsing various fairness cream products. He had taken sarcastic jibes at all of them for endorsing such products and promoting racism.
Sonam Kapoor suffers wardrobe malfunction; actress flashes some serious side b**b
Sonam was in no mood to take the criticism silently, and she responded by sharing a screenshot of Esha Deol, Abhay's cousin, endorsing a fairness cream too. She tagged the tweet to Abhay and said, "@AbhayDeol I appreciate and concur with your views and would like to know your thoughts on this as well".
Abhay was quick to reply to it and said, "Is wrong too. For my views read my post". The actress continued the subtle Twitter banter saying, "Thank you Abhay, I shot this campaign ten years ago and didn't understand the ramifications. Thank you for bringing this to the forefront".
Abhay then replied saying, "More power to you @sonamkapoor maybe you can use your power as well to take this further than the forefront". Nevertheless, Sonam's way of hitting back at Abhay by dragging Esha in the issue did not go down well with Twitterati, and she was in return heavily trolled.
Seeing several tweets ridiculing the actress, Sonam then tweeted, "Did anyone bother reading this tweet or just want to troll. I think it's important to know the whole picture before jumping to conclusions".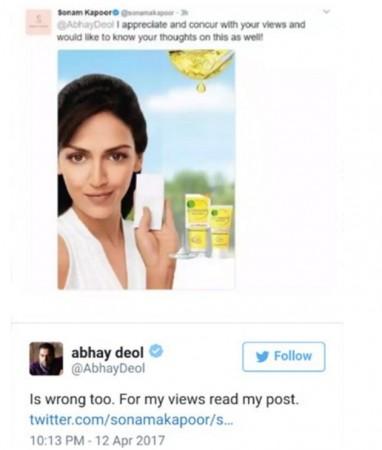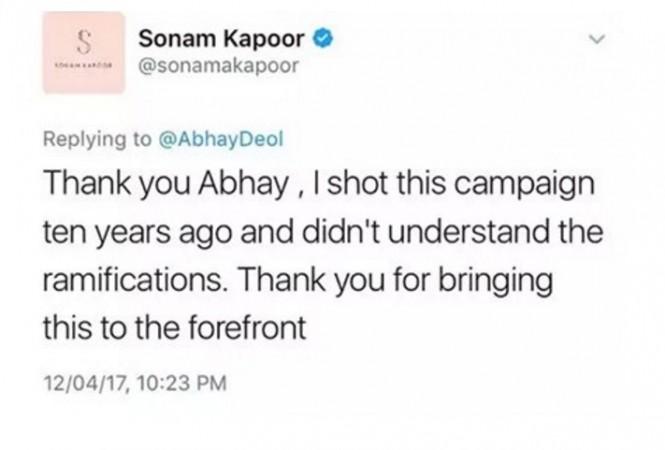 However, Anil Kapoor's daughter later deleted all the tweets that led to more trolls. Well, Sonam certainly did not see that coming before posting those tweets. Apart from Sonam, no other star has yet reacted to Abhay's sarcastic posts on Facebook. Sonam and Abhay have worked together in two films -- Raanjhanaa and Aisha.Check some of the tweets that trolled Sonam:
Sonam kapoor and Abhay deol are fighting , it's perfect time for Dhanush to jump in and propose sonam kapoor.

— Akshay Kuldharan (@gods_hacker) 13 April 2017
Wow! Just when you think @sonamakapoor can't be dumber and more childish, she responds with a photo of Esha Deol!!! Never ceases to surprise

— Karan sapoot (@sapootsingh) 13 April 2017