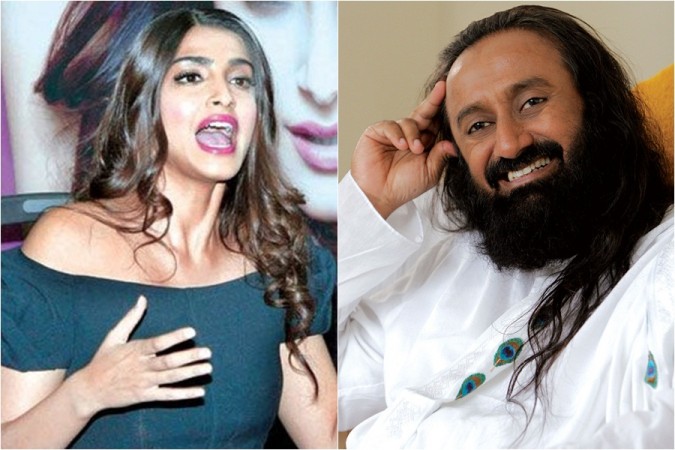 Sonam Kapoor landed herself in hot waters when she criticised humanitarian and spiritual leader Sri Sri Ravi Shankar for his comments on homosexuality while answering a question at a lecture in JNU, Delhi.
Earlier in the day, Sonam, who has been always vocal about LGBT community and their fundamental rights, lashed out at Sri Sri and schooled him about homosexuality in a series of tweets and called him a moron.
But little did Sonam know that she was also inviting unwanted trouble while criticising the godman. Soon Sri Sri's supporters jumped into the debate and slammed the actress for her choice of words used against the spiritual leader in her Twitter rant.
Homosexuality is not a 'tendency' it's something you are born as and is absolutely NORMAL. To tell someone you can change is irresponsible.

— Sonam Kapoor (@sonamakapoor) November 14, 2017
One user asked Sonam on what basis she made such definitive statement and asked her about her expertise in the field. Another user called her foolish for reacting in such a way to a news report.
Another user requested Sonam to say sorry to Sri Sri for misquoting his statements out of context while the other told the actress not to not judge a book by its cover by posting a video link to Sri Sri's full speech at JNU.
One user asked Sonam to change the current scenario about homosexuality by making movies on the subject to create awareness since films have a tremendous impact on people.
Another user asked the actress to do a little research before jumping guns on Twitter saying that the Guru has always supported people with homosexuality while others told her to keep her mouth shut as Twitter has given her a loud voice.
During Sri Sri's lecture at JNU, a student asked him how he should handle the way his friends and family treated him for his sexual orientation. The guru answered him, "You don't think you are sick or something is wrong with you. If you stand up, nobody can insult you, but...if you feel bad about yourself, nobody can make you feel better. This is your tendency now...know that this tendency is not a permanent thing. It may change. I've seen many men who were gay later turn into heterosexuals, and there are those who are normal, who are called straight people, end up being gay later in life."