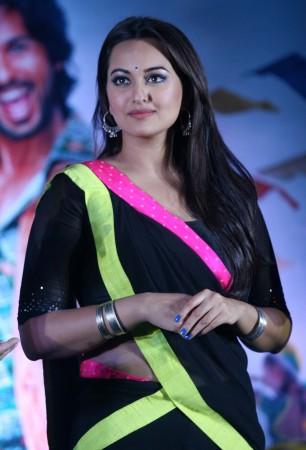 Bollywood actress Sonakshi Sinha, who has always been criticised for her weight, slammed everyone who took a potshot at her weight and fashion style.
Recently, the "Tevar" actress, instead of keeping mum, stood up for herself and posted a picture of a skeleton on her instagram account, and captioned "GIRLS BE LIKE I finally hit my goal weight". She also posted a witty but strong comment along with the picture.
"To all those who keep commenting on my weight, whether its a full picture, or a close up where you cant see jack. Take a good look at this picture. Now get this: 1) this ain't ever gonna be me. 2) get over it. 3) i wish u could see which finger i hold up for shallow and idiotic people like yourself," the "Dabangg" actress wrote.
Parineeti Chopra, who has also been under the scanner for her figure, impressed with the new age women empowerment, took to Twitter to praise her co-actresses for standing up for themselves. Recently, Chopra also lauded Deepika Padukone, who slammed a leading daily for her cleavage picture, Anushka Sharma for her lip controversy among others.
Deepika speaks against a demeaning article. Kangana rejects any fake awards. Anushka sportingly writes about her lips. Sonakshi --

— Parineeti Chopra (@ParineetiChopra) October 14, 2014
Sonakshi shows a finger to the fashion police. I showed an ignorant (sex and periods) journalist his place. So proud and glad that -- — Parineeti Chopra (@ParineetiChopra) October 14, 2014
Actresses are not afraid to stand up to hypocrite journalists who demean them. They speak their heart and demand their respect!! GO GIRLS!!! — Parineeti Chopra (@ParineetiChopra) October 14, 2014
The "Kill Dil" actress concluded "However, not all journalists are so. Just those who only care for masala headlines. RESPECT those who believe in responsible journalism."
Some time back, former Miss World and actress Aishwarya Rai Bachchan was also under the media scrutiny for her weight gain post the delivery of her child Aaradhya.
Considered to be one of the best known Indian face around the world, Aishwarya, came under harsh critisim for not getting back in shape.
But pregnancy weight gain and criticism doesn't bother her. However, a whole lot of the film industry, including her family, slammed the media for creating unnecessary hype.