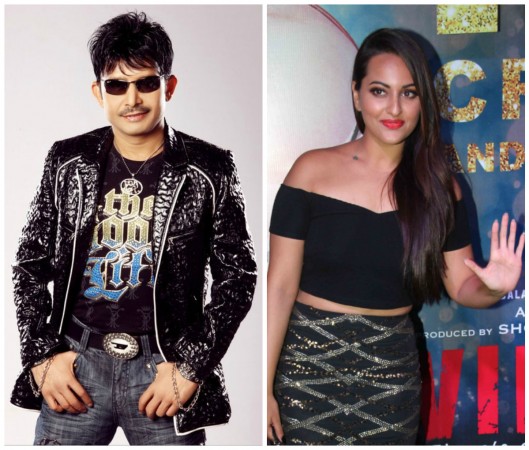 After silencing the fashion police, Sonakshi Sinha locks horns with 'popular' critic, actor and now trade expert Kamaal Rashid Khan aka KRK.
The latter, known for blunt remarks, appreciated reality star Kim Kardashian's "butt" on Twitter, but expressed his disappointment over not having spotted any Indian actress with such an attribute.
Sonakshi Sinha, who seem to be in an attack-mode lately, lashed out at him for disrespecting women. "Please RT this if u think @kamaalrkhan is a woman disrespecting waste of space and deserves to be hung upside down and given 4 tight slaps," Sinha tweeted.
Having garnered over 3,000 retweets, this Twitter spat shows no signs of slowing down. KRK, who has apologised to the "Tevar" actress on social media, clarified that it was part of a survey on Bollywood's sexiest actresses announcing that she had been disqualified.
"As you @sonakshisinha think tat this survey is a disrespect of woman so you are disqualified n out of competition. Sorry to hurt ur feelings," he wrote.
Urging twitterati to vote who among Deepika Padukone, Katrina Kaif and Parineeti Chopra has the "biggest butt", the "Deshdrohi" actor has definitely got himself into a hot boiling pot of soup. However, despite Sinha's reproach, KRK appears pretty convinced in his harsh tweets. He even went on to share opinions in his favour on his Twitter handle.
Will this be another Padukone Vs leading daily situation? Only time will tell.
In other news, KRK has come under the scanner multiple times for his tendency to target celebs on social media. The last major spat he had on Twitter was the one with funnyman Kapil Sharma, in which the latter lost his cool and abused him. However, Sharma later realised his mistake and apologised to his fans for behaving inappropriately. Khan, not very surprisingly, showed no signs of repentance.