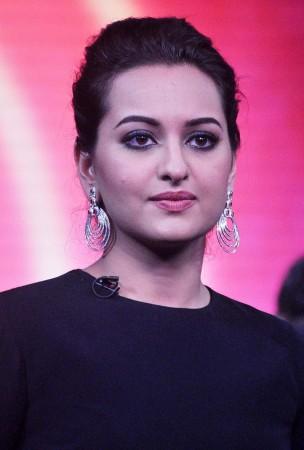 Bollywood actress Sonakshi Sinha seems to have shot back at the criticism towards her weight, by posting a picture of her lean self in workout gear on Thursday.
The 'Lootera" actress went the Kim Kardashian way by posing for a selfie after a workout. The 26-year-old cut a toned figure in the photo, which looked far from her plumpy self.
Sonakshi's weight issues have often been the talk of town. But her recent photo is an indication that the actress is all geared up to melt away the pounds which might give her image a more urbane edge.
Woke up at 6am. Dint know what to do. Put on some @asliyoyo music on full blast and BAM - 2 hour workout done! ... http://t.co/5AMrda2Hjf
— Sonakshi Sinha (@sonakshisinha) January 30, 2014
Interestingly, Sonakshi posted the selfie on a day when her contemporary Parineeti Chopra got vocal about the former's weight. The "Hasse Toh Phase" actress, who herself has been struggling with the extra pounds, felt that Sonakshi is not overweight.
"Sonakshi looks great the way she is. Personally, I don't think she is overweight. She is beautiful and nobody has a gorgeous face like Sonakshi. I am talking about what I feel," Parineeti told PTI.
Earlier, Sonakshi slammed critics about her weight saying her profession is to act and not be a "size zero". Her co-star Shahid Kapoor also came to her defence on a separate such occasion.