Challenging and unorthodox, the art of method acting has long been a favored technique of Hollywood heavyweights seeking to perfect their craft. It really takes a great toll on an actor to remain in character for the entire length of the film, sometimes to lose or gain significant amounts of weight, in order to befit a role and to turn their life itself into an art piece as they get psychologically invested in a role. But a great many dedicated and perseverant thespians have been doing it for years.
Developed by Constatin Stanislavski of the Moscow Art Theatre and later adapted by Lee Strasberg for American actors, this eccentric craft has received extra attention of late, thanks to actors such as Daniel Day-Lewis, who became so immersed in his performance in "Lincoln" (2012) that he began to send text messages as Abraham Lincoln, according to The Telegraph.
The "insane" method of Daniel Day Lewis. Which is you favourite performance? #methodacting http://t.co/oydWuZBUMF

— Brian Timoney (@brianctimoney) July 24, 2014

Marlon Brando, widely credited with pioneering a naturalistic style of acting, continues to be remembered as the poster boy for method acting long before it had lodged in the public or cultural consciousness, and was still a relatively obscure technique.
His style of acting became so popular that Brando won two Academy Awards for Best Actor for "On the Waterfront" (1954) and "The Godfather" (1972), and was nominated for eight Acaemy Awards during his illustrious career.
For his debut "The Men" (1950), Brando spent a month confined to a bed in a veteran's hospital, seeking to replicate the full psychological and emotional experience required for the role. In comparison to those who follow in the list, this many seem tame but at the time it was absolutely revolutionary, with his contemporaries branding him as absolutely bonkers.
Heath Ledger will forever be the best joker #BatmanDay pic.twitter.com/ESAAWAlqST

— ♛ (@_damnnnthatsher) July 23, 2014
Topping everyone's list of method actors is the much-missed Heath Ledger, who played the infamous Batman villain The Joker in "The Dark Knight" (2008). Even at his most evil, Jack Nicholson, who played The Joker remarkably well in "Batman" (1989), has nothing on Ledger's version of The Joker, whose cold manner and high-pitched screeching laughs had the makings of a truly demented psychopath, which was perfected during his one-month lock-up in a hotel.
Ledger even kept a diary, where the character's bizarre thoughts and feeling were recorded, and the last log to which was "bye bye". Makes one wonder if as Friedrich Nietzsche said Ledger "gazed too long into the abyss and unfortunately the abyss stared straight back into him" considering his accidental drug overdose and untimely death.
The 1999 biographical indie film "Boys Don't Cry", which earned Hilary Swank an Academy Award, tells the story of Brandon Teena, a female-to-male transsexual, who was raped and murdered in Nebraska.
Swank had auditioned for the role, pretending to be a small-town girl from Nebraska, successfully convincing the director she was the right choice for the role. Prior to the filming, she reportedly lived publicly as Brandon for a month.
"I told everyone that I'm not going to call anyone and I'm just totally unreachable for this amount of time because you just have to totally immerse," Swank told Urbenette.
While Robert De Niro is probably best known for his physical transformations in films like "Raging Bull" (1980), the actor has also shown intense devotion in preparing for roles. In order to portray a young Vito Corleone in Francis Ford Coppola's "The Godfather Part II" (1974), De Niro moved to Sicily, where he perfected multiple Sicilian accents which apparently astonished his Italian voice coaches.
For Martin Scorsese's "Taxi Driver" (1976), De Niro spent days at a US Army base in Italy to get a feel on how the men would walk and talk, later learning how to shoot a gun and driving cabs in New York upon his return. De Niro also learned how to play the saxophone for his role in Scorsese's "New York, New York" (1977).

In 2009, everyone was surprised by the news that Academy Award nominee Joaquin Phoenix was retiring from his acting career to become a rapper. Although it was initially suspected to be a prank, his complete devotion to the lie - in that put his actual acting career on hiatus and attended talk shows in character - allowed the story to blow out of proportion. Phoenix was actually trying to spread the word on his new film "I'm Still Here" (2010), directed by Casey Affleck, which unfortunately turned out to be huge blow to his career.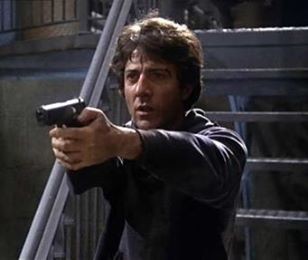 Nominated for the Academy Award for Best Actor seven times in his career and winning twice - for "Kramer vs. Kramer" (1979) and "Rain Man" (1988), Dustin Hoffman provides one of the most amusing method acting stories, involving intense preparations for his role in "Marathon Man" (1976).
Reports claim that Hoffman refused to sleep for days, to portray his character's deteriorating physical and psychological frame of mind better, but when he saw co-star Laurence Olivier handling it casually, he asked him how he was able to make his performance so real. And Olivier told Hoffman: "Try acting, dear boy... It's much easier."
While the veracity of the story has been questioned over the years, it still remains one of the most humorous examples of the difference between various acting styles.