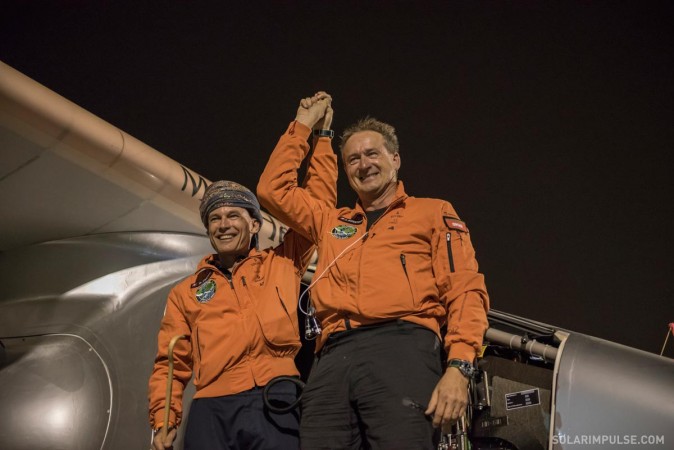 Solar Impulse 2 pilot Bertrand Piccard finally got his passport stamped after hours of delay at the Ahmedabad airport and is now on his way to Varanasi where he'll be taking over the controls of the solar plane from his co-pilot André Borschberg.
From Varanasi, Piccard will be heading to Myanmar for the fourth flight of SI2, which is scheduled to complete its circumnavigation of the Earth by the end of May this year using only solar energy.
Happy ending for @bertrandpiccard, who is now on his way to #Varanasi with part of the #solarTEAM! What a day! pic.twitter.com/wD9xiWdkDU

— SOLAR IMPULSE (@solarimpulse) March 18, 2015
BREAKING: @bertrandpiccard is arriving at the customs, with his #Si2passport stamped! Thank you all for your support! : SOLAR IMPULSE Twitter profile
UPDATE: #Si2passport issue is solved, #solarTEAM ready to move to #Varanasi. Many THANKS for your help today!
The delay by the Indian immigration officials seem to have upset the Swiss pilot who was waiting to get all the crew members' passports stamped for their third flight to Varanasi, which was scheduled for Sunday but the clearance resulted in the delay.
Piccard's frustration was evident in the tweet he posted on his Twitter profile, "If there is no adventure in the future, it is not because of a lack of ideas, but because of excessive administration."
Talking to the reporters about the delay in his programme, Piccard said that he had missed the immigration clearance due to a welcome ceremony, but when he went to them later it was postponed every time.
"When I arrived here with solar Impulse, there were authorities, media and ceremonies. I was covered with garlands and shawls gifted by the people who received me and I missed immigration clearance. And now I am desperate to get the clearance for last five days," The Times of India quoted Piccard as saying.
"Whenever I went for the clearance, they postponed it to the following day. The delay is detrimental to the project and we are now in a big mess. I need to go to Varanasi to bring Si2 to Myanmar," he said.
The pilot was waiting to get a stamp on his passport so that he, along with his team in Ahmedabad, could fly to Varanasi, where Borschberg will be landing the SI2 at 9pm IST. The SI2 Ahmedabad team, tired and exhausted, was patiently waiting for the clearance so that they can reach there early to assist the Varanasi team with the landing.
PLEASE RT #Si2passport: @bertrandpiccard is blocked with part of #solarTEAM in #Ahmedabad because of customs issues!
Worried! The #solarTEAM in #Ahmedabad might not arrive in time in #Varanasi to help for the landing! #Si2passport.
If @bertrandpiccard can't come to Varanasi #Si2passport = no pit stop possibility = #Si2 grounded = mission critical.
Read in detail about the flight here.