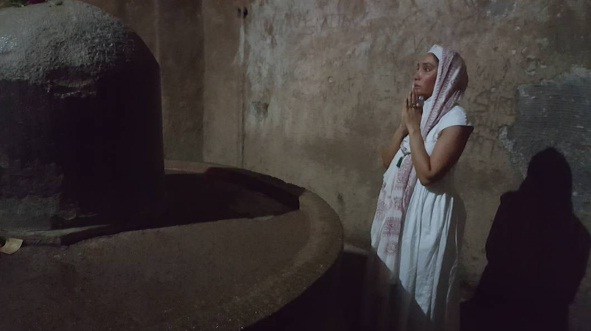 Former model and ex-"Bigg Boss" contestant Sofia Hayat, who has adopted the name Gaia Mother Sofia after turning into a nun, has now made another surprising post on Instagram. She posted some photos on social media and shared an experience. She claimed that she has given "birth to Lord Shiva."
Sofia is seen bowing down in front of a Shiv Linga at Kailash Temple in Aurangabad and in the post, she said that some "magnetic" energy drew her head to the Shiv Linga. She said that she experienced some massive change inside her body and added, "I know I gave birth to Shiva." Sofia also shared a video in which she is seen crying and asking people to seek Lord Shiva's blessings.
In the post, she wrote, "Kailash temple in Aurangabad is so so powerful. I couldn't breathe. I felt a massive magnetic energy draw my head to the Shiv Lingh. I was shaking for 1hr. I could not lift my head from the Shiv Lingh it was stuck like a magnetic. Something so powerful is happening. Om namah shivaya. My body is changing. Today I know I gave birth to Shiva. Today he came back to me and is inside me. I felt scared for such a big powerful change in my body. I am changing back to who I am. The Gods are coming back. The power in me is so great. Shiva is here inside me, I am inside the shiv lingham. It is so powerful I am shaking in my very soul. The time is here. Sacred children."
Earlier, Sofia had stunned everyone when she shared pictures of her dressed as a nun. Once considered to be a hot model and a controversial figure, Sofia had said that she has given up all "fake" things like make-up, adding that she would not have sex or children ever.