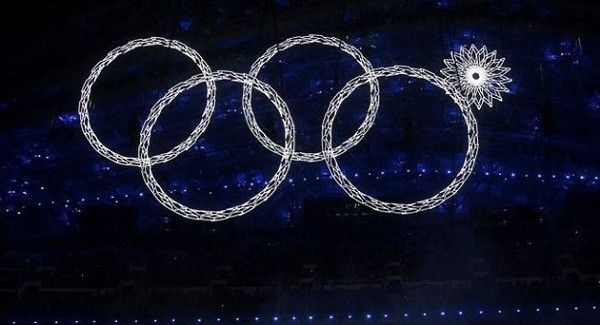 Very clever, Sochi ;) #CBCOlympics #ClosingCeremony #sochi2014 pic.twitter.com/IhwIvpUkcR

— CBC Olympics (@CBCOlympics) February 23, 2014
The fifth ring didn't open for sometime this time around too, giving a chilling reminder of what had happened during the opening ceremony. But they couldn't afford a technical malfunction again and decided to do it with humans this time. So there was no question of a glitch occurring again.
After the four rings fully opened- this time formed by a group of humans sporting colourful, glittering white dresses - the fifth ring remained closed for a good number of seconds during the closing ceremony Sunday night, making every onlooker catch their breath, as if to say, 'no, not again!'
But after a while, the fifth ring 'of humans' was made to open with extra energy and passion, as if to say, "oh no! We are not making the same mistake again!" And that was perhaps the moment that let everyone say - 'thank God!'
Making the Olympics rings with humans was a good choice as it tended to negate the chance of a repeat of the opening ceremony's much talked-about ring malfunction. It was a timely intervention to make sure what was left incomplete in the opening ceremony must be finished this time.
The fifth ring was intentionally made to remain closed for a few seconds; as if to emphasize and assert that it really isn't happening again. And when the last ring opened suddenly, from what appeared to a similar snowflake-like entity of the opening's fame, the chilling effect it sparked will be a thing worth remembering for days.
Importantly, the untoward glitch of the opening ceremony invited a torrent of criticisms from possibly every direction. Nothing was more important for the organizers than to make sure that everything goes smoothly this time around.
The committee had said after the opening ceremony that the ring malfunction incident should not demean the entire episode of colours, glitz and sounds that were widely enjoyed. But the subject became widely criticised again after it was known that a Russian TV channel had played the video of the rehearsal instead of the actual opening ceremony, in order to falsely claim that the rings had opened fully.