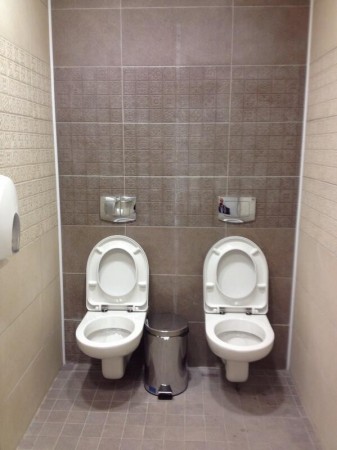 A photograph of a men's cubicle with twin toilets at a Sochi Olympics venue has caused an online frenzy with many people expressing their disbelief and astonishment.
While it has managed to cause much hilarity among the awestruck public, many others have linked it to the recent debate of Gay rights in the country.
The photograph was taken by a BBC journalist in Moscow, Steve Rosenberg, who tweeted the photo Tuesday with a notorious comment that read: "Seeing double in the Gentlemen's Loo at the Olympic Biathlon Centre".
Just to make clear, this is not photoshopped. You can see my reflection in the flusher. #Sochi #Olympic loo pic.twitter.com/LONZhbt6pZ

— Steve Rosenberg (@BBCSteveR) January 21, 2014
In its report, the BBC reported that the picture became the bone of contention after it was picked by the Russian opposition leader Alexei Navelny among others. Navalny reportedly queried how the budget for the games which were stipulated to be $50bn were being spent.
Retweeting the photo, Navalny commented: "This is a men's toilet in a Sochi Olympics media centre for 1.5bn roubles [$45m]."
Understandably, many found humour in the entire story while others joked about Russia's controversial law on gay rights. International communities had even called for a boycott on the February's games because of Moscow's stand on "gay propaganda".
"This is how they understand the needs of sexual minorities," one blogged.
"The true nature of competition," joked another one.
"New Olympic Sport: PairPooping!" was one quip.
One twitter user, who noted that there was only one toilet roll between the two seats in the cubicle said, "Tear off some paper before you sit down."
An individual with a handle 'paul redgrove' said jokingly, "I say comrade could you pass me 8 folded sheets..?"
To its reply 'Chris Mitchess' said, "Only 8? Just pass the roll. And stop looking at me."