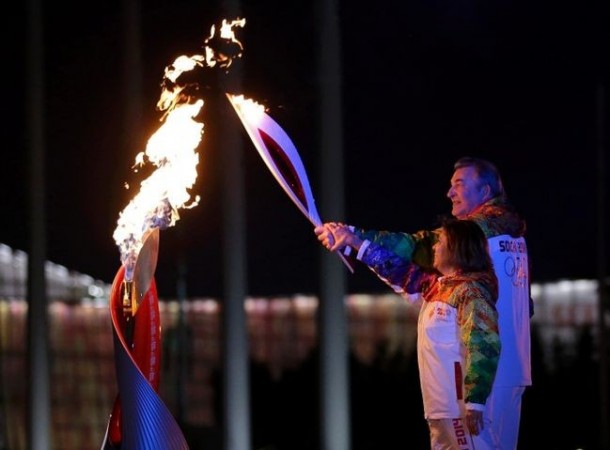 The image of Irina Rodnina, a renowned Russian figure skater, lighting the Olympic flame has been met with utter disbelief and severe criticism, as Rodnina is said to have posted a racist picture of US president Barrack Obama last September. The doctored picture of Obama on Twitter showed the President with a mouth-full of food and Michelle Obama staring at a banana that is being waved at them.
Irina Konstantinovna Rodnina, 64, is one of the most successful Russian figure skaters with three successive Olympic gold medal-wins. She also holds the title of winning 10 successive World Championships.
The post by Rodnina was severely critized and was seen as a racial slur. Though the Russian Olympian deleted the post following the criticism, she never apologized for it.
Here is the Racist picture tweeted by Irina Rodnina back in September.
Woman Who Lit Olympic Flame in Sochi Tweeted a Racist Photo of Obama http://t.co/b028raTNOy via @mashable pic.twitter.com/EiFpAlEUK0

— Thomas Heid (@twheidmusic) February 8, 2014
After hundreds of viewers across the globe saw Rodnina light the Olympic flame alongside Vladislav Tretyak, ice-hockey player at the Sochi ceremony on Friday, they took to twitter to vent their ire. "The choice of this woman to open the Olympics, a shot at the USA?" wrote a user, while another added, "#Olympics going "downhill" fast #IrinaRodnina #SochiFail #Sochi #racist."
Since the start, Sochi Olympics has been mired in problems and controversies. First the games was shadowed by the debate over Russia'a anti-homosexuality laws. Then came the slew of problems reported by the visiting journalists, who now have created a page on Twitter @SochiProblems totalk about several problems at the Olympic village.
The eve of the Sochi 2014 opening ceremony too brought in major embarassment to Russian organizers, as one of the Olympic rings failed to open on the display screen at the beginning of the show.
Twitter Reactions:
Russia needs to answer for honoring Irina Rodnina at Sochi (@USATSportsImage): http://t.co/7YxRCGk3eD... http://t.co/eCjxzL4hrQ — darlene edwards (@darlene09465021) February 8, 2014
Flame lighter's racist Obama tweet resurfaces http://t.co/XyZ5YgtC97

— Love Is All We Need (@LovelsAllWeNeed) February 8, 2014
Irina Rodnina tweeted a racist picture of the Obamas. How was she rewarded? By being allowed to light the Olympic flame We see you, Russia — Nerdy Wonka (@NerdyWonka) February 8, 2014
The woman lighting the Olympic flame is Irina Rodnina, the woman who tweeted a shockingly racist picture of Obama... http://t.co/Zu17lcMDUe

— Ruthie Thompson (@ruthie2theright) February 8, 2014