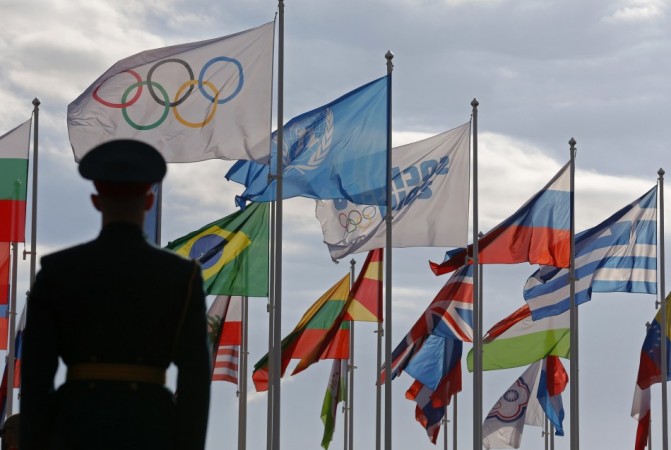 It might be too much to call it a political battle over 'toothpaste terrorism'. But the United States' warning that explosive materials could be smuggled into Russia in flights taking off for the country, seems to have ratcheted up the cold war-era sentiments between US and Russia, as Sochi prepares to start the Olympic Games with a grand ceremony on Friday.
Sending across a hint of annoyance, the Voice of Russia reported the story with bleak taste. It starts off by advising that "all passengers travelling to Sochi by plane should leave their toothpaste at home as the US warned of possibility that explosive materials could be concealed in toothpaste".
The seemingly satirical piece alleged that the US is well-known for issuing 'bizarre warnings', like "caution, hot" or "do not use for drying pets".
"Now the warning is linked to the possible danger lurking in toothpaste tubes," it added.
The event in Sochi has become one of the most talked-about affairs of late, thanks to the numerous controversial issues that loomed large in the built up to the anticipated occasion. Even as the decision to let free members of the anti-Putin punk band "Pussy Riot" was largely seen as a politically motivated move to avoid backlashes ahead of the Olympics, global sentiments have been flowing in from all spheres in protest of the human-right issues inside the country.
Concerns related to security have been one of Kremlin's most prioritized issues. Russia seemed to be doing everything it could, to ensure nothing untoward happens in the Winter Olympic Games venue at the wake of the twin bombings in the southern city of Volgograd in December, which heightened security threats.
The 'hyped up' safety concerns for passengers, as the article calls it, comes at a time when the Putin-government is looked at with caution even as the controversial president has said that he has done everything possible to beef up the security around Sochi. But the US' warning that appears to dictate its authority over intelligence gathering seemed to have irked Russia.