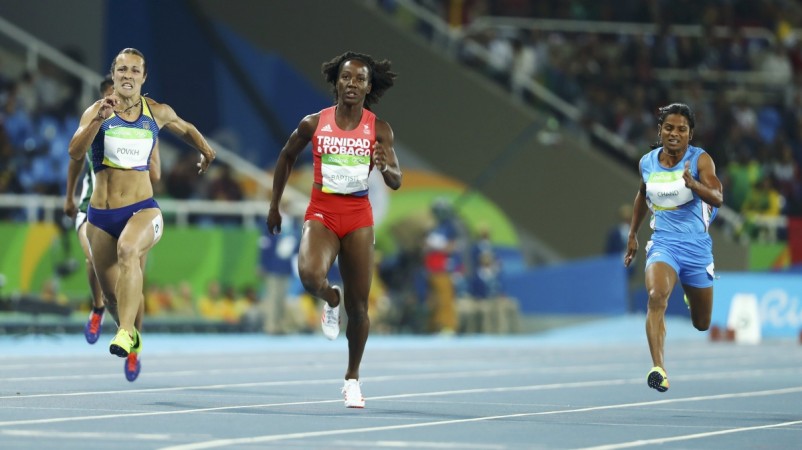 Dutee Chand, who became the first Indian sprinter after PT Usha to qualify for 100 metres event at Olympics, suffered heartbreak in Rio on Friday when she failed to make use of the event to make her mark. All the limelight and pressure of performing in the grandest stage made her "scared and nervous", the 20-year-old revealed.
The girl from Odisha finished seventh in her 100 metres heats event (heat 5), thus failing to qualify for the next round. She clocked 11.69 seconds, which was well below the 11.33 seconds she clocked earlier this year at the National Athletics Championships in New Delhi to create a national record.
Only the top three sprinters of the eight heats events qualify for the semi-finals of the 100 metres event.
Dutee admitted that the atmosphere and the expectation to perform made her feel unsettled and a 36-hour flight to Brazil also drained all her energy. "I was really scared and nervous. It's a huge atmosphere. I got really scared and could not give my best," Dutee told the Press Trust of India. "This is a completely different atmosphere, everyone was so taller than me," Dutee said.
"I was well prepared in Almaty when I clocked 11.24 seconds as I had reached there well in advance. But here, I was tired after the long 36-hour flight in a crammed economy class seat. I reached here on Aug 5 evening. I slept for two days and had severe back pain. I could not adjust well. My coach also reached late and I did not get any help here. He did not get accreditation and faced a lot of trouble," she added.
Participating in her maiden Olympics, Dutee would have made history if she qualified for the women's 100 metres finals and participated alongside the likes of Shelly Ann-Fraser of Jamaica and Desiree Henry of Great Britain, but that has not been the case.
"I know I have disappointed everyone and could not give a better time, but I promise to return stronger," Dutee continued.
"I'm grateful to everyone for supporting me. It's because of their best wishes I could come at this level. It's great to become the only sprinter from Odisha to compete at Olympics. I was very excited. It was my first Olympics so was not aware how to go about it. Hope I will be better prepared next time," she added.