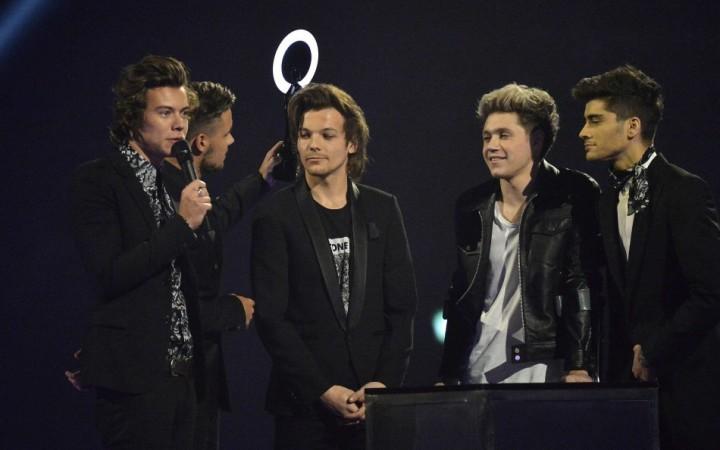 A One Direction fan has claimed to have secretly recorded several snippets from the band's new album, Four, and if Twitter chatter is any indication, then fans are ecstatic.
Reports have it that the fan got hold of the tracks after he snuck upstairs to the penthouse of a hotel where one of One Direction's music producers was staying. The fan reportedly hung outside the room and recorded the unreleased One Direction songs that the producer was listening to.
These snippets have since been released through several Vine videos, and the voices do appear to belong to Niall Horan, Zayn Malik, Liam Payne, Harry Styles, and Louis Tomlinson.
The boys have not commented on the leak, other than posting a message on their website thanking fans for their support and patience while they worked on their fourth album. "We're so excited to announce our fourth album, FOUR! We've worked incredibly hard writing and recording it whilst we've been on the road and we couldn't have done it without your support," the message read.
The full album, featuring 16 tracks, will be released on 17 November, and "Fireproof" and "Steal My Girl" have already become chart-toppers, thanks to the dedication of One Directioners, as the band's fans are known.
"It shows how dedicated the fans really are," Styles told Australia's Today Show about the overwhelming number of preorders. "They're not hearing music, they're just going, 'Well, I liked the last three [albums], so I trust you enough to put out something I'm going to like again.'"
And this time around, most of the boys have tried their hand at writing the lyrics, with Payne and Tomlinson earning the most songwriting credits. They helped write "Fireproof," in addition to the first single "Steal My Girl," according to reports.
A rough recording of "Steal My Girl" was leaked online on Sunday, giving fans a vague idea of what to expect from the upcoming album. And the exhilarating response from fans can be taken as a sure sign of the song's success. Commenting on the song, Tomlinson told MTV News that it has a feel-good tune that's "not too far away from the last album. I think it's a good bridge record. It's got good vibes to it."