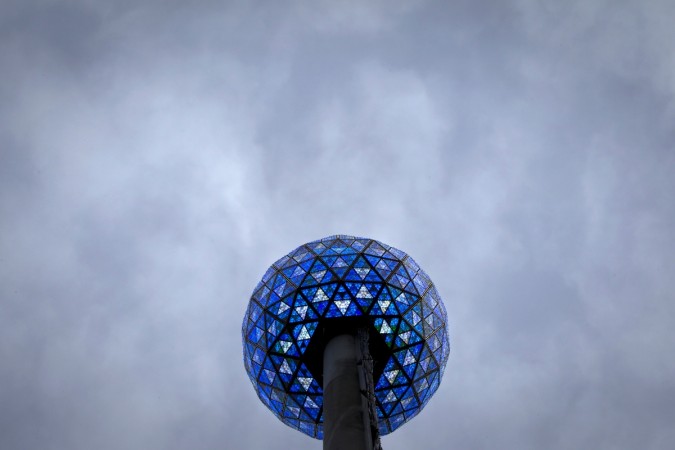 As the countdown for New Year's Eve begins, spectators across the world, including an estimated one million people who will in attendance at Times Square in person, are waiting for the moment to watch the New Year's Eve Ball drop and mark the beginning of 2015.
The plethora of colours and billions of patterns produced by the crystals designed and crafted by Waterford artisans are integral parts of heralding every New Year in New York City since 1907.
Located on the roof of One Times Square, the ball begins its descend around 11:59 pm (ET) and covers 141 feet (43 m) in 60 seconds down a specially designed flagpole. The ball comes to rest at midnight, signalling the start of the New Year.
New Year 2015 will be welcomed by "Gift of Fortitude", 12 feet in diameter Ball made up of 2,688 Waterford crystal triangles, each of which represents a theme.
In the new design, 288 of the 2,688 crystal panels will feature the "Gift of Fortitude" design, diamond cuts on either side of a crystal pillar, to represent "the inner attributes of resolve, courage and spirit necessary to triumph over adversity", Forbes Life reported. The remaining 2,400 crystal triangles will have the "Gift of Imagination" design from 2014.
The new triangles with the innovative designs will swap out older triangles through 2023, USA Today reports. While the Ball remains atop the pole throughout the year, new panels are introduced to it ever year.
Waterford's Master Artisan and a second-generation glass-blower, Tom Brennan, says ,"It's hard work, but it's great fun... We want to make sure we refresh over the previous year. It moves very very quickly and we never stop." The dropping of the 11,875 pounds heavy Ball on New Year's Eve lasting a mere 60 seconds is the result of an entire year of planning and designing.
To mark fortitude as this year's theme, Waterford has awarded the International Rescue Committee, a humanitarian group that offer assistance to refugees, with the "Award of Fortitude." The representatives from the IRC, which is also an official partner of Times Square New Year's Eve 2014, will join New York Mayor Bill de Blasio in pushing the button that will start the ball drop on New Year's Eve.