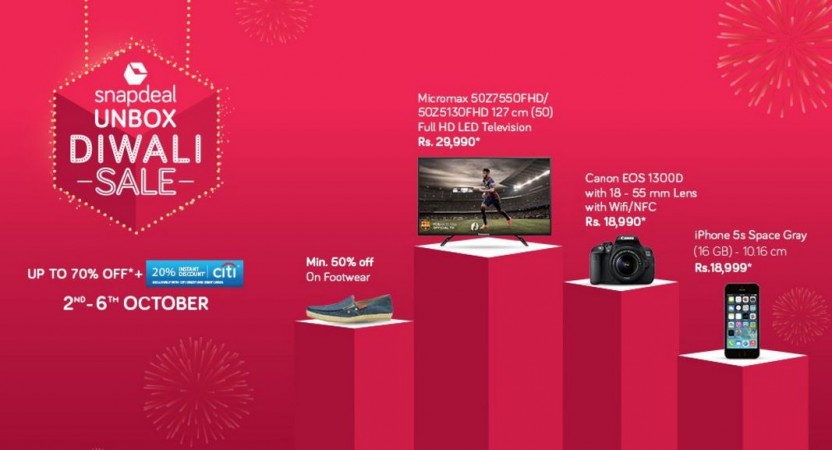 Snapdeal, third biggest e-commerce site after Flipkart and Amazon in India, is hosting pre-festive promotional campaign with Unbox Diwali sale on October 2.
Like Flipkart's Big Billion Days and Amazon India's Great Indian sale, Snapdeal's Unbox Diwali sale is also offering lucrative deals on mobile phones, tablets, home & kitchen appliances, video games, cameras, fashion and other sundries.
To further sweeten the deal, Snapdeal is giving away additional discounts up to 20% for Citibank debit/credit card holders and it has also tied up with Bajaj Finance to offer zero down payment and interest-free EMI options, as well. Snapdeal's Unbox Diwali sale is slated to conclude on October 6.
This is exciting times for Indian consumers and if anybody is planning to buy a new phone, this is the right time to make the purchase. To provide a better perspective, we have handpicked top branded phones with best price deals to help our readers make an informed decision.
Apple-
13% off on the iPhone 6S Plus (128GB) - New price: Rs. 79,998 (Old price: Rs. 92,000)
15% off on the iPhone 6S (64GB) - New price: Rs. 3,299 (Old price: Rs. 4,199)
33% off on the iPhone 6 Plus (64GB) - New price: Rs. 47,999 (Old price: Rs. 72,000)
34% off on the iPhone 6 (64GB) - New price: Rs. 41,199 (Old price: Rs. 62,00)
7% off on the iPhone SE (64GB) - New price: Rs. 45,699 (Old price: Rs. 49,000)
9% off on the iPhone SE (16GB) - New price: Rs. 35,490 (Old price: Rs. 39,000)
24% off on the iPhone 5S (16GB, Space Grey)- New price: Rs. 18,999 (Old price: Rs. 25,000)
Samsung-
19% off on the Galaxy S6 edge (32GB)- New price: Rs. 31,900 (Old price: Rs. 41,900)
15% off on the Galaxy A7 (16GB)- New price: Rs. 20,499 (Old price: Rs. 23,990)
24% off on the Galaxy A8 (32GB)- New price: Rs. 25,990 (Old price: Rs. 34,000)
30% off on the Galaxy Grand Prime (8GB, Gold)- New price: Rs. 8,590 (Old price: Rs. 10,700)
11% off on the Galaxy J3 with S bike mode(8GB)- New price: Rs. 7,990 (Old price: Rs. 8,990)
33% off on the Galaxy A5 (16GB)- New price: Rs. 17,990 (Old price: Rs. 26,800)
32% off on the Galaxy A3 (16GB)- New price: Rs. 9,980 (Old price: Rs. 14,600)
Xiaomi-
7% off on Xiaomi Mi Max (6.8-inch screen)- New price: Rs. 13,999 (Old price: Rs. 14,199)
8% off on Xiaomi Redmi Note 3 (32GB+3GB RAM)- New price: Rs. 10,999 (Old price: Rs. 11,999)
Other smartphone brands:
22% off on LeEco Le Max 2 (32GB)- New price: Rs. 17,999 (Old price: Rs. 22,999)
31% off on Moto G Turbo (5.5-inch screen)- New price: Rs. 9,999 (Old price: Rs. 14,499)
24% off on Asus Zenfone 2 Laser (5.5-inch screen & 16GB storage)- New price: Rs. 10,999 (Old price: Rs. 14,399)
13% off on Asus Zenfone Max (16GB)- New price: Rs. 8,999 (Old price: Rs. 10,399)
21% off on Intex Cloud Breeze (8GB)- New price: Rs. 3,299 (Old price: Rs. 4,199)
[Note: Availability of devices on Snapdeal's Unbox Diwali sale is expected to vary with time and inventory's stock]