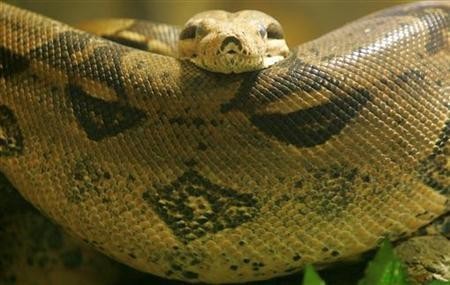 A lengthy battle between a crocodile and a huge water python ended up with the snake overpowering the crocodile and eating it up in Northern Australia.
The incident occurred alongside the Lake Moondarra, close to Mount Isa and was captured on Sunday, 2 March 2014 by local resident, Tiffany Corlis.
By the time Corlis started watching the fight, the 10 feet long snake, which was thought to be a python had already constricted itself around the crocodile, strangling it and finally eating it.
Corlis witnessed the entire incident and took pictures of the two creatures fighting for life. She said that the fight started in the water. But while the crocodile tried holding its head onto the surface, the snake overpowered the crocodile, according to BBC News.
"It was amazing. We saw the snake fighting with the crocodile - it would roll the crocodile around to get a better grip, and coil its body around the crocodile's legs to hold it tight. The fight began in the water - the crocodile was trying to hold its head out of the water at one time, and the snake was constricting it", BBC News quoted her.
"After the crocodile had died, the snake uncoiled itself, came around to the front, and started to eat the crocodile, face-first," she added.
It appeared to the onlooker that the snake took about 15 minutes the swallow the huge crocodile.
According to experts, python can kill their prey by coiling itself around the animal. The prey dies either from heart failure or suffocation. Most snakes can swallow their prey as big as five times their size due to their flexible jaws.
Check out for the video here