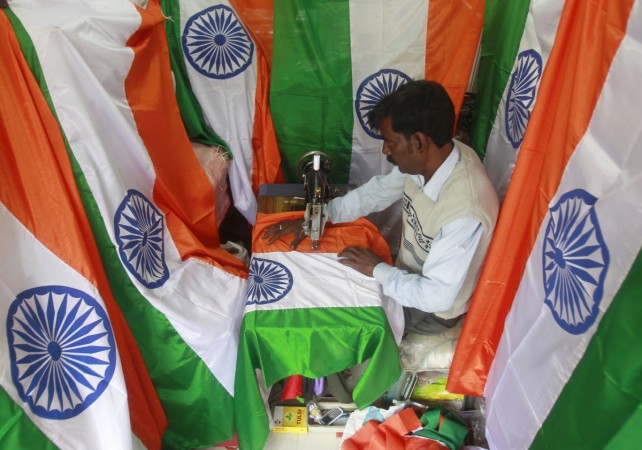 Vice chancellors (VC) of all central universities reportedly decided Thursday that they would unfurl the national flag on university campuses. The decision was taken during a meeting with the Ministry of Human Resource Development (MHRD).
The resolution, reportedly proposed by HRD Minister Smriti Irani and endorsed unanimously by the VCs, was for "instilling nationalism and pride."
The step comes close on the heels of the ongoing controversy at the Jawaharlal Nehru University (JNU)— a central university — where protests are being staged daily in favour and against JNU student union president Kanhaiya Kumar. Kumar has been charged with sedition for his alleged involvement in anti-India sloganeering during an event on Feb. 9 in the university campus.
The move drew criticism from the Congress as well as the CPI(M), reported the Press Trust of India. However, Congress MP Naveen Jindal, who runs the Flag Foundation, and on whose efforts the second biggest national flag was unfurled in Connaught Place, Central Delhi, welcomed the decision.
"I would like to thank Hon'ble Minister @smritiirani ji and @HRDMinistry for the decision to install monumental flags in all central univs (sic)," said Jindal in a tweet. "The National Flag shall encourage youth and students to rise above religious and political lines and be united. (sic)"
Congress MP Shashi Tharoor tweeted, "Aside fromJNU controversy, @MPNaveenJindal's effort to popularise the national flag (now2b at all central univs)admirable. #TricolourForUnity (sic)."
JNU will be the first central university to hoist the national flag, which will be unfurled on a 207 ft mast. This is being done to project a "strong India", reported PTI. VCs of Jamia Milia Islamia, Central University of Kashmir and Aligarh Muslim University (AMU) have said that they will soon identify a place to place the national flag on their university campuses.
"One VC proposed this idea and it was supported by everyone. It was felt that installing the national flag is the right thing to do and it will instill pride in everyone. I will try to institute this in a day or two," the Indian Express quoted AMU VC Zameeruddin Shah as saying.
The move to hoist the flag has also been criticised by some academicians and leaders as a "juvenile" method to deal with the various issues in the country.
"Irani's formula for making Univs world class:Appt pliant,Saffron VCs.Stop all dissent,debate.Just fly National Flag! (sic)," tweeted lawyer Prashant Bhushan. Historian S Irfan Habib said, "Why should any proud Indian have any reservations about unfurling the national flag anywhere? Yet this dictat looks so juvenile."
Omar Abdullah, former chief minister of Kashmir also expressed his discontent saying, "If hoisting the flag was all it took to address feelings of alienation problems of Kashmir & North East would have been solved decades ago (sic)."
Kanhaiya Kumar has been sent to 14-day judicial custody by the Supreme Court. He has applied for bail, the hearing for which is on Friday. Earlier, the Delhi Police said that they will not oppose if Kumar applies for bail.
Meanwhile, the Intelligence Bureau has sent a report to the Home Ministry and the Delhi Police regarding names of people who shouted anti-India slogans during an event on Feb. 9 in JNU, reported NDTV.