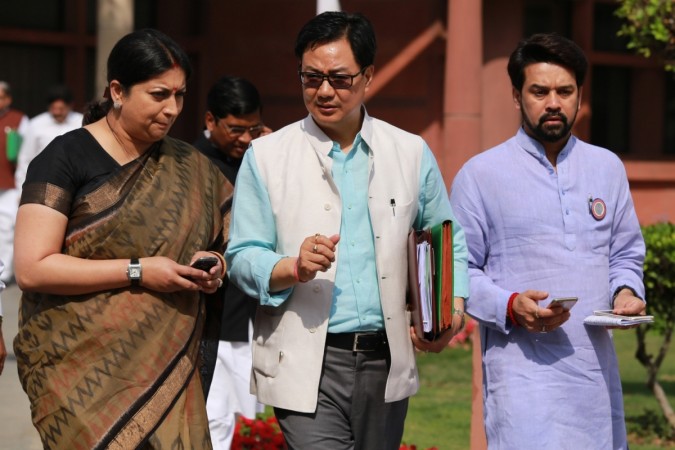 Union HRD Minister Smriti Irani will be visiting Amethi on May 26 as part of the BJP-led NDA's celebrations on completing two years in office.
The 40-year-old Rajya Sabha lawmaker will visit Partosh village to attend an event at the Gyan Bharti Centre and then proceed to Rajiv Gandhi Institute of Information Technology at Tikarmafi and later to Kalikan in Sangrampur to inaugurate a rest house and distribute e-rickshaws to beneficiaries, PTI quoted BJPs Amethi unit chief Uma Shankar Pandey as saying.
Irani had unsuccessfully contested the Amethi Lok Sabha seat against Congress party leader Rahul Gandhi in the general elections held in 2014.
The Narendra Modi government plans to hold events in 32 cities in Uttar Pradesh to showcase its performance keeping in view the Uttar Pradesh assembly polls due in 2017, added PTI.
Irani had many political slugfests with opposition leaders on various issues, ranging from educational certificates to appointments in her ministry.
Recently, Irani had a Twitter fight with Congress spokesperson Priyanka Chaturvedi, after being dragged into it inadvertently.
It all started with Chaturvedi complaining of being trolled for her blog post on a television news channel in response to which a journalist, Shefali Vaidya, had compared abusive comments made on the two women and the response it evokes from people.
When @priyankac19 is trolled, it is an attack on 'dignity of women'but poisonous slander against @smritiirani is acceptable.

— Shefali Vaidya (@ShefVaidya) May 23, 2016
Ms @ShefVaidya a perceived threat to @smritiirani 's life gets Z sec,here I am struggling to get rape/death threat investigated.cut the crap

— Priyanka Chaturvedi (@priyankac19) May 23, 2016
@priyankac19 I don't have Z security Madam.

— Smriti Z Irani (@smritiirani) May 23, 2016
Do refute this story then @smritiirani says 18 commandos to protect you while travelling. https://t.co/F5RzDf7KmA

— Priyanka Chaturvedi (@priyankac19) May 23, 2016
Your HRD minister, ladies and gents. https://t.co/K17JOokf2L

— Rohan Venkat (@RohanV) May 23, 2016
Not worth my time , so don't worry on that front @smritiirani , you must concentrate on creating another campus ruckus.

— Priyanka Chaturvedi (@priyankac19) May 23, 2016
....and it continued on Tuesday also.
Hilarious to see Mission Salvage (whatever is left of-)Ego for a minister. Am done with it, would hope they find the strength to move on. :)

— Priyanka Chaturvedi (@priyankac19) May 24, 2016
Hilarious!!! https://t.co/HRkcQcJi5V

— Smriti Z Irani (@smritiirani) May 23, 2016
In some of the tweets, the Congress suffering a humiliating defeat at the hands of the BJP-led alliance also got dragged, with Irani saying losing is Rahul Gandhi's "forte".