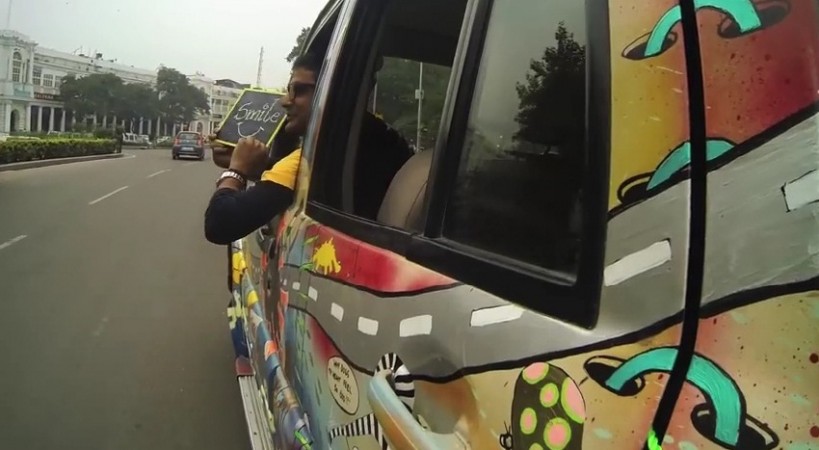 Spreading smiles; that is exactly what The Smiles Project team is doing because sometimes being happy is all that matters.
The Delhi-based group of youngsters is spreading smiles with little acts of kindness, such as distributing candles and giving good surprises to people.
The team, which roams around the city, consists of five members; four girls and a boy. They are Jahanara Rabia Raza, Onaiza Drabu, Palak Malik, Prachi Jha and Rahat Kulshreshtha.
The group tries to make the people in the city happy by doing random "crazy" things like providing tea to construction labourers, giving candies to school children, cracking jokes, distributing flowers, passing cards which say 'smile' and much more.
"The idea stemmed as a project for an Arts Appreciation course at the Young India Fellowship. As a project we collect and curate smiles through video and as an experiment, bring an artwork to engage with public. Artist duos Manil-Rohit have agreed to be on board with crazy work, the Holographic Love Machine," reads The Smiles Project's Facebook page.
There is a 4-minute, 17-second video on YouTube, uploaded by the group on 20 May, which showcases their activities. It has become popular of late as more people are sharing it on their Twitter and Facebook handles.
"The Smiles Project is a community initiative dedicated to doing random acts of kindness to spread smiles. Over two days, the Smiles team travelled across Delhi, doing extremely ordinary things we otherwise wouldn't," the video description reads.
The video has received overwhelming responses on Twitter and Facebook.