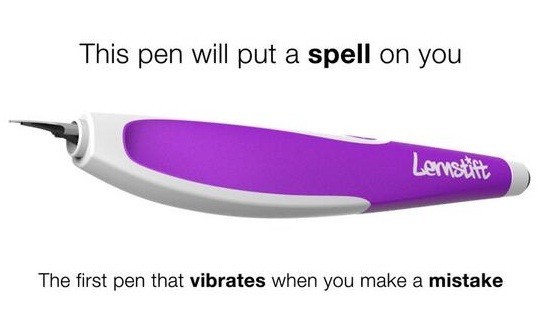 An old fashioned fad like 'handwriting' is now given new dimensions with a new pen that will monitor what a user is writing. Lernstift is a hi-tech pen that vibrates every time it senses a spelling error or sloppy handwriting.
The smart pen developed by german scientists uses a battery-powered Linux operating system to control the sensors and recognize handwriting. Lernstift meaning 'learning pen' in German also hides a Wi-Fi chip under the hood.
Even though there are other smartpens in the market, Lernstift stands out as it writes like a regular pen with regular ink. It doesn't require a special paper to write upon and the pen tips are exchangeable - including a fountain pen module, a ballpoint module and a pencil module.
Lernstift also provides users a choice between two modes: Calligraphy Mode - to point out flaws of form and legibility, and Orthography Mode - to recognise words and compare it to a language database. If the word isn't recognised the pen will vibrate.
The pen was developed after a year and a half. One of the co-founders. Falk Wolsky, conceived the idea while his son was doing his homework.
"His son had been struggling with his work and staying focused and Falk thought there should be a pen that gives him some sort of signal so he stays focused," Daniel Kaesmacher told ABC news.
Interestingly, Lernstift has an open API so that new applications for the pen can be built by developers, like new dictionaries for spell checking in different languages. The smartpen is available for pre-order through Kickstarter and is expected to be shipped in December.