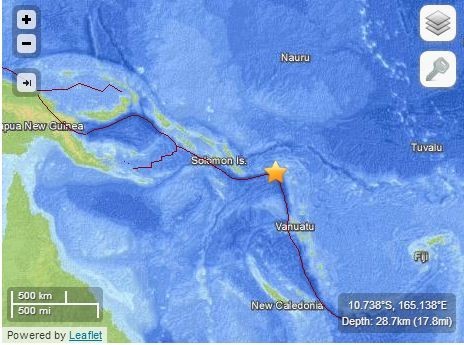 A small tsunami measuring 0.9 metres hit the Solomon Islands in the South Pacific on Wednesday after a powerful earthquake of magnitude 8.0 struck off Santa Cruz Island, 250 miles to the southeast of the Solomon Islands Chain.
The quake occurred at 12:12 p.m. local time and had sparked tsunami warning for several South Pacific island nations, including Australia and Indonesia.
Latest reports said that the warning was called off for Solomon Islands, Vanuatu, Nauru, Papua New Guinea, Tuvalu, New Caledonia, Kosrae, Fiji, Kiribati, Wallis and Futuna.
The warnings were also lifted for Marshall Islands, Howland and Baker, Pohnpei, Tokelau, Samoa, Kermadec Islands, New Zealand, American Samoa, Tonga, Australia, Niue, Cook Islands, Indonesia, Wake Island, Chuuk, Jarvis Island, Guam, Northern Marianas, Palmyra Island, Yap, Johnston Island, Minamitorishima and Belau.
The quake occurred as a result of a shallow thrust fault near the plate boundary interface between the Australia and Pacific plates, according to the US Geological Survey (USGS).
The quake struck at a depth of about five kilometres (three miles) off the Santa Cruz Islands about 340 kilometres east of Kira Kira and 81 kilometres (50 miles) west of Lata, according to USGS.
The Solomon Islands Broadcasting Corporation citing a witness reported that water was covering an airfield near Lata in Temotu province. There were no immediate reports of damage or casualties.
Police in the Kira Kira town said that they felt the quake but didn't report any damage.
"We felt the shock. We have warned people to get to higher ground," local police officer Samuel Tora told Reuters.
"When no major waves are observed for two hours after the estimated time of arrival or damaging waves have not occurred for at least two hours then local authorities can assume the threat is passed," the Hawaii-based center said.
Wednesday's incident is the second major quake to hit the Solomons. In 2007, an earthquake measuring 8.1 magnitude triggered a strong tsunami killing at least 50 people in the region.