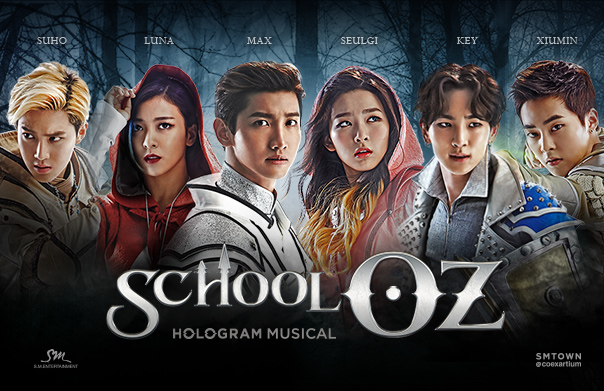 Largest South Korean record label SM Entertainment is set to release the world's first hologram musical "School OZ" on 14 January.
The one hour, 50-second-long fantasy drama is based on 1939 film "The Wizard of OZ" and will be performed by K-pop stars at the SMTOWN Theatre in Samsung-dong, Seoul.
The hologram musical will feature EXO members Suho and Xiumin as young boy Hans and loyal Aquila, f(x)'s Luna as witch Glinda, Red Velvet's Seulgi as missing Dorothy, TVXQ's Changmin as mysterious Oscar and SHINee's Key as energetic David.
The storyline of the theatre drama will follow Dorothy, who goes missing a day before the 'Great Knight' championship, reported Soompi.
Through a 30-second-long trailer, SM Entertainment provides a glimpse of their most anticipated show. According to the video clip, the stunning performances of K-pop stars will take the viewers of "School OZ" to an adventurous world of magical spells.
The theatre drama is also expected to provide an out of the world experience to its audience with stereophonic sound system, high definition screen and projects.
For an effective visual impact, SM Entertainment will even install a floating hologram on a transparent screen.
Meanwhile, fans of K-pop stars can enjoy some hit numbers by SM artists during the theatre drama.
There are also reports that Super Junior's Leeteuk and Girls' Generation's YoonA will make a special appearance in the musical drama.
The tickets for the hologram musical can be availed through an application from the SMTOWN theatre and the official website of the show.
Watch the trailer of "School OZ" below: