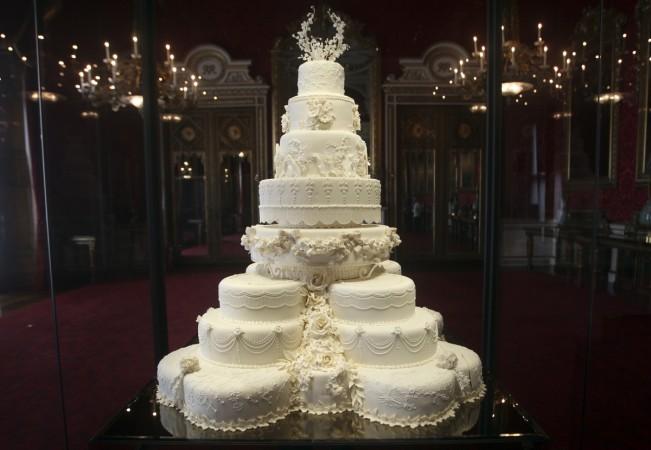 Exceeding expectations, a slice of the three-year-old royal wedding cake from Prince William and Duchess Catherine's wedding sold for $7,500 at an auction on Friday.
The piece of fruit cake from 2011 was put on the block at Julien's Auctions in Beverly Hills, California. The cake was served to guests at the royal wedding three years ago; one of the invitees had sold his share to the auction house. The auction house was expecting around $1,000 to $2,000 for the slice.
The baker took around five weeks to make the eight-tier cake. A slice of the cake was given to each guest in a tin along with a blank invitation to the wedding presented on the Queen's stationery, CNN Money reports.
Earlier, a slice of Prince Charles and Princess Diana's wedding cake fetched $6,000 at the same auction house almost 27 years after the wedding, said Julien's executive director Martin Nolan.
The Friday auction also included bidding on other royal items like five of Princess Diana's dresses. The dresses were capable of fetching between $60,000 o $100,000 each, Daily Mail reports.
In 1997, months before the princess died in a car accident, Diana sold the five dresses for a total of more than $458,000. Prince William had suggested her that she could donate the proceeds from the sale to a charity. At that time, the dresses were sold for between $5,000 and $18,000, and believed to be in good condition.
For Kate and William's wedding cake, 59-year-old baker Fiona Cairns was contacted by St. James' Palace in February that year to ask whether she would be able to make a cake for the royal wedding. Fiona's confections are sold in Harrods, Selfridges and Waitrose.
"We reflected some of the architectural details in the room so the garlands on the walls were reproduced loosely on the fourth tier-we've used roses, acorns, ivy leaves, apple blossom and bridal rose," she said.
The gateau was covered in cream and white icing and was decked with 900 delicate sugar-paste flowers.
Cairns said that the bride wanted elements from the Joseph Lambeth technique of cake decoration that includes making of three dimensional scroll work, leaves and flowers via elaborate piping.
The Duchess had also asked Cairns to include 17 different blooms and foliage for their symbolism as the "language of flowers."