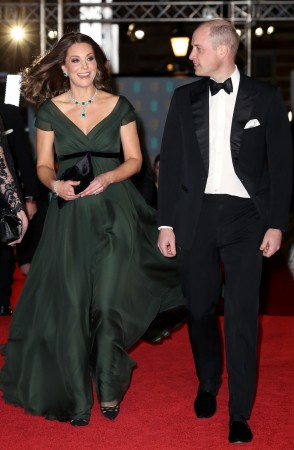 The British Academy of Film and Television Arts, popularly known as the BAFTA, took place a couple of hours ago. While it was expected that the winners and speeches would steal the limelight, a heavily pregnant Kate Middleton was the show stealer of the event.
This year's BAFTA saw celebrities supporting the Time's Up movement as several wore shades of black on the red carpet. The Duchess of Cambridge instead stepped out wearing a gorgeous green gown with just a subtle nod to the movement #MeToo around her pregnant belly.
Her decision to step away from the dress code ignited a debate on Twitter with several slamming her for her choice of wardrobe. "I know the Royals aren't supposed to get involved with "protests" or anything... but would it really have been THAT bad for Kate Middleton to wear black???" asked a Twitter user.
"Disappointed in #KateMiddleton #DuchessofCambridge not wearing black to the #EEBAFTAs It's not a political thing. Its a woman thing! #TimesUp #StandTogether," expressed another.
"Can someone please sit me down and explain why Kate Middleton couldn't wear black for a few hours for an important cause?" added another.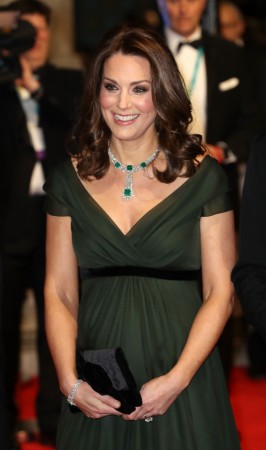 However, many royal fans are accusing critics for bullying the pregnant Prince William's wife. Royal protocols stop the family members, including Kate here, to make any statement on any political campaign or movement. The royal family is not encouraged to wear black unless they are attending a funeral or Remembrance Day.
Pointing this out, several fans jumped to defend Kate and accuse these "critics" for bullying Kate into following the movement.
"So now #Katemiddleton has upset the luvies on Twitter because she didn't wear a black dress to support #MeToo. Do these people understand royal protocol? Also, are we now at the point of forcing women to wear certain clothes and shaming them if they don't?" explains a royal fan.
"If the Duchess of Cambridge wore black, she'd be criticized for joining a Hollywood-originated movement. She didn't wear black and is accused of not being a "woman's woman." No one wins here," surrendered a fan.
Personally I think this dress ? is lovely... it's a lovely colour. In a lose lose position if she wore black she would have been criticised for being "political." I am sure quietly she supports the #metoo movement after all she has a daughter... #KateMiddleton https://t.co/ZpRWnamVdl

— Kiwi Johno - Truth Always Wins ?????❄️??♎️ (@JohnOSullivan36) February 19, 2018
I've seen an awful lot of vitriol being directed towards Kate Middleton for her choice of dress at the #BAFTAs. Her outfit was as black as she could get without her breaking royal protocol and shaming her and any other woman is surely the antithesis of the MeToo campaign.

— shane telford. (@MrShaneReaction) February 18, 2018
Ahhh nice to see the feminists out in full force tonight criticising Kate Middleton for having the cheek to CHOOSE whatever she wants to wear tonight! I think she looks gorgeous, this movement doesn't give you a right to dictate how people dress #Katemiddleton

— Siobhan Bennett ??‍♀️ (@shivversss) February 18, 2018
Kate's dark green empire waist gown is courtesy Jenny Packham. The outfit features a black sash right above her belly. She completed her look with emerald jewelry and a black clutch.
While Kate got internet buzzing, Three Billboards Outside Ebbing, Missouri was the star of the evening. The movie took home five trophies including best film, best British film and best actress for Frances McDormand. Gary Oldman won the best actor for Darkest Hour whereas The Shape of Water took three trophies, including best director for Guillermo Del Toro.