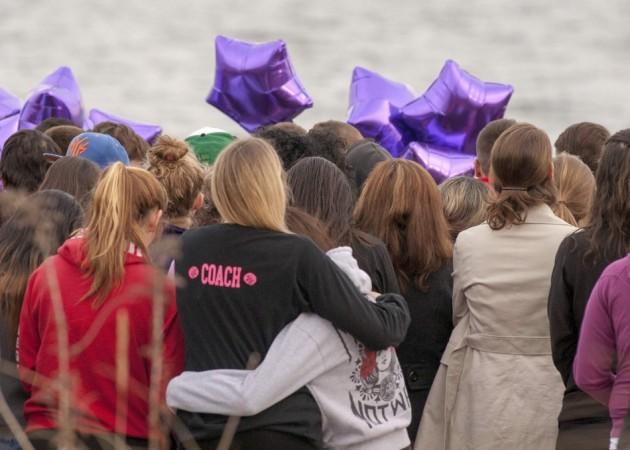 News of the death of a 16-year old Connecticut student Maren Sanchez has deeply moved Phillip Phillips, the winner of the eleventh season of American Idol in 2012.
I am so sad to hear of the tragic death of Maren Sanchez. My thoughts and prayers are with her family.

— Phillip Phillips (@Phillips) April 25, 2014
The teen who was stabbed in a hallway of Jonathan Law High School in Milford on Friday, used to be a fan of the season 11 American Idol winner, and covered his song "Home" in a school talent show the same year he won the competition series, the Hollywood Reporter notes.
See Maren Sanchez performance below:
About 200 community members and students, some wearing their prom dresses and tuxedos, gathered Friday evening at Walnut Beach in Milford, to remember the 16-year-old, who was murdered at around 7:15 am Friday after rejecting a classmate's invitation to a dance, the New York Daily reported.
Friends and classmates have identified the boy as Chris Palskon, who is also 16. He has now been charged with murder as a juvenile, although news is rife that he could be charged as an adult. He is due to appear in a court on Monday in New Haven, reports suggest.
On Friday the school's junior prom was scheduled to start at a nearby banquet hall later in the evening. But the annual dance was postponed after the tragedy.
The Harford Courant reported that anguished classmates funneled down to Walnut Beatch, the local beach where students wearing their formal wear cried and prayed. Friends shouted out memories of the slain classmate while releasing purple balloons into the sky yelling "Love you, Maren."
"The unexpected and sudden loss of our beloved family member Maren Victoria Sanchez is both shocking and devastating," the teen's cousin, Edward Kovac of Easton was quoted by the newspaper. "Maren should be celebrating at her prom this evening with her friends and classmates. Instead, we are mourning her death and we are trying as a community to understand this senseless loss of life."
[ED:VS]