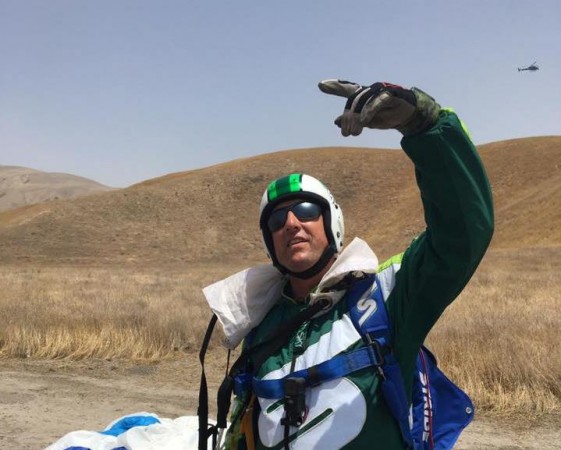 Ever wondered what would it be like to skydive without safety gear?
Luke Aikins, a professional skydiver having previously skydived 18,000 times, on Saturday, made history when he became the first person to jump 25,000 feet off an air plane — without a parachute.
Two minutes after jumping off over Simi Valley, which is 30 miles from Los Angeles, Aikins landed safely in a 100-by-100 foot net, Associated Press reported. Soon afterwards, he climbed out, walked over and hugged his wife Monica and their four old son who had been watching his father.
"I am almost levitating, it's incredible. This thing just happened! I cannot even get the words out of my mouth," Aikins was quoted by AP.
Aikins, who has worked on the Iron Man 3 movie, jumped from the air plane without safety gear or wing suit as part of a TV special event called "Heaven Sent," KTLA 5, a Los Angeles News and Video channel reported.
After landing, Aikins revealed that the screen actors guild had ordered him to wear the safety gear. However, he had decided to call off the stunt. "I am going all the way to the net, no question about it," he said from the plane.
Three skydivers, each wearing parachutes jumped off the plane with Aikins. One of them had a camera, the other had trailed smoke so that the people on the ground could follow Aikins' descent and the third carried an oxygen canister. The three opened their parachutes mid-way and left Aikins on his own, AP added.
The 42-year-old daredevil has been skydiving since the time he was a 12-year old boy. At the age of 16, Aikins attempted his first solo leap. Aikins belongs to a family of skydivers. His father and grand-father were skydivers. His wife Monica has made 2,000 jumps.
Watch the video of Luke Aikins skydiving without using safety gear:
Luke Aikins becomes the first person to jump from a plane into a net on the ground without a parachute or wingsuite pic.twitter.com/nWquMMfAWL

— FOX SPORTS News (@FOXSportsNews) July 31, 2016