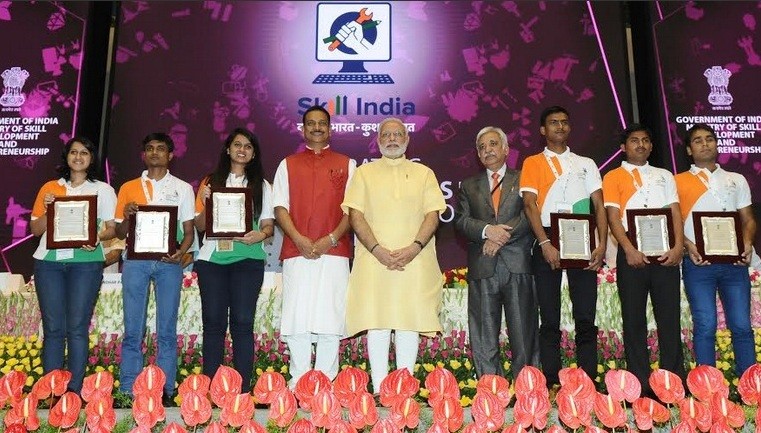 Skilling India was one of the major objectives of the Prime Minister Narendra Modi when he campaigned for his party in 2014 general elections but even at the onset of the 2019 Lok Sabha election, the goal is far from being achieved. The ambitious "Skill India" programme aimed at skilling 40 crore people by 2022 but the development towards achieving this target has been snail-paced.
According to a recent study by "Young India and Work" by the Observer Research Foundation and World Economic Forum (WEF), a whopping 70 per cent of Indian youth is not even aware of these schemes. The survey was carried out for the age group of 15 and 30, in which almost 6,000 youth participated where they were asked about their education, employment, and their aspirations.
The study highlights the potential divergence between youth and government, as well as between youth and industry. It also underlined the lack of connecting between the state-run skill development programmes and youth sentiments. The survey findings showed that approximately, three-fourths of the youth country has never enrolled for a skill development program sponsored either by the central or state government. The reason for the sluggish rate of participation is attributed to financial and time issues.
Moreover, the findings revealed that 76 per cent of the respondents reported having shown interested in pursuing skills development training. The respondents identified the characteristics of attractive skills programmes as moderate time commitment, monetary compensation, certification, and a mix of online and classroom content.
Youth preferred the public sector as ideal providers for skill development opportunities, over the private sector. Around 51 per cent of the youth argues that the main hurdle in searching for a desirable job is the lack of professional guidance in identifying jobs that match their skills. Compared to their male counterpart, more female respondents expressed their interest in participating in skill development programs.
The report highlighted that "In the context of technological adoption and digitisation, jobs and tasks, along with the competencies required to execute them, are changing. 86 per cent of youth feel very or moderately up to date with changes in skills requirements. Yet, 39 per cent of youth feel very prepared or prepared for their ideal job, while 16 per cent of youth feel either not prepared or very unprepared for their ideal job."