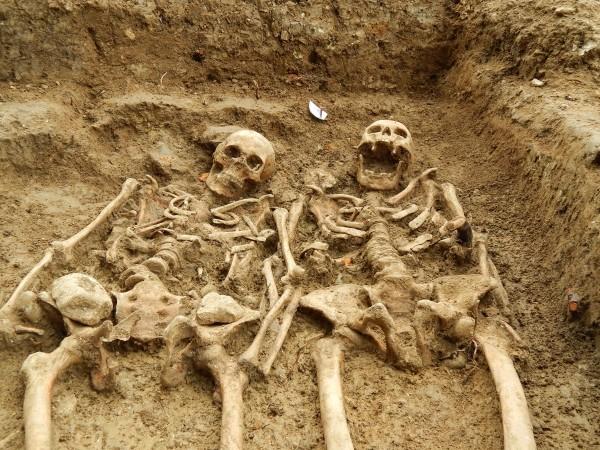 In this age of 72-day marriages, it just warms one's heart to know that there still are stories of love that last a lifetime; and beyond.
The archaeologists at the University of Leicester, England have uncovered two skeletons, lying next to each other, holding hands for 700 years.
Refusing to be parted even by death, the couple was discovered by the team of archaeologists from the University of Leicester Archaeological Services, who were working with local volunteers during an excavation of the "lost" chapel of St Morrell in Leicestershire, a site of pilgrimage in Hallaton during the 14th Century.
In a statement issued by the University of Leicester Press Office on 18 September 2014, Vicki Score, the ULAS project manager revealed that although double graves- where two people are buried in a single grave- is not an uncommon occurrence, discovering it in the lost chapel was surprising.
A total of 11 skeletons have been excavated so far, all orientated east-west in the Christian tradition dated to the 14th century, begging the question why these people were buried here rather than in the main church in the village.
The team of archaeologists believes that the chapel may have been a special place of burial, specifically reserved for pilgrims.
"We have seen similar skeletons before from Leicester where a couple has been buried together in a single grave. The main question we find ourselves asking is why were they buried up there? There is a perfectly good church in Hallaton. This leads us to wonder if the chapel could have served as some sort of special place of burial at the time," Score says.
Research revealed that one of the older males were killed by a sharp weapon to the head (presumably in battle), while a young male was buried in a pit with his legs raised to his chest, possibly as a result of a medical condition.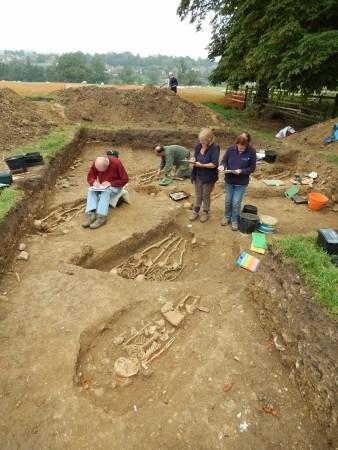 Members of the team excavating and recording the lost chapel and the cemeteryUniversity of Leicester Archaeological Services
The four year excavation project with the Hallaton Fieldwork Group has revealed not only the skeletons, but has also identified the walls and tiled floor of the chapel as well as fragments of stone masonry, wall plaster, tiles and lead from the windows.
In fact, the entire architecture of the chapel as well as the cemetery gives an idea that the hillside has been in use since at least the Roman period.
A square ditch around the site also suggests that the hilltop could originally have been the site of a Roman temple. A number of silver pennies dating between the 12th – 16th centuries have also been found on the site.
A recent open weekend to promote the excavations was hugely successful, with the local school being given a tour of the excavations and several hundred people visiting over the course of the weekend, reported the University of Leicester Archaeological Services News.