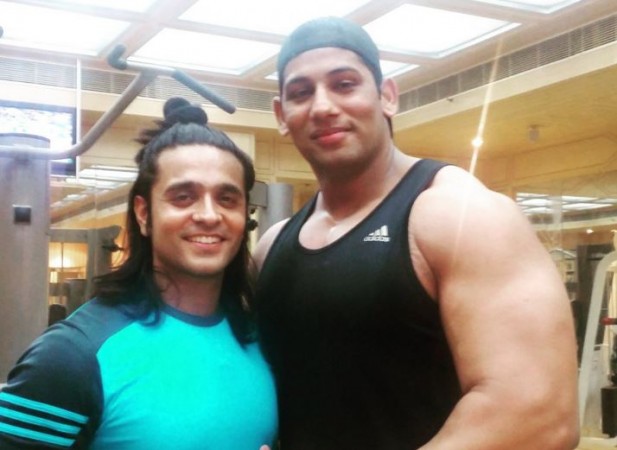 Wrestler Danish Akhtar Saifi will soon be making his acting debut with the role of Hanuman in mythological show "Siye Ke Ram." Even as Danish is working hard on his acting skills, Ashish Sharma, who plays the role of Ram on the show, is mentoring the wrestler for the role.
According to reports, Ashish had played the role of Hanuman in Ramleela that was held in his hometown, Jaipur. Hence, with his experience, Ashish is helping Danish prepare for the character. "I am personally a bhakt (devotee) of Bajrangbali (Hanuman) and have played the role of Hanuman about seven to eight times, due to which I identify with the character very well. He was Ram's biggest bhakt who never let anything happen to him and Sita," Ashish told IANS.
"As for Danish, he has made a drastic career change; that from being a wrestler to an actor, so I told Nikhil Sinha (director of 'Siya Ke Ram') that I will personally help Danish prepare to be like Hanuman by explaining him the intricacies of the character," he added.
It was reported that the show's director, Nikhil Sinha, had discovered the apparent 6 feet 6 inches tall wrester in a wrestling match and offered him the role. "I never thought that I would end up coming in this field. Everything feels like a dream. Nikhil Sinha (director of the show) saw one of my wrestling matches and that's when he discovered me and discussed his excitement about taking me on board, [sic]" IANS had quoted Danish as saying.
"Siya Ke Ram," is currently revolving around Ram, Sita (Madirakshi Mundle) and Lakshman (Karan Suchak) proceeding towards 14 years of vanwaas (exile) and will soon have Hanuman joining them in their journey. Besides Danish prepping for the role, the makers have also done a detailed study and are looking into minute details to give the character of Hanuman an authentic look.