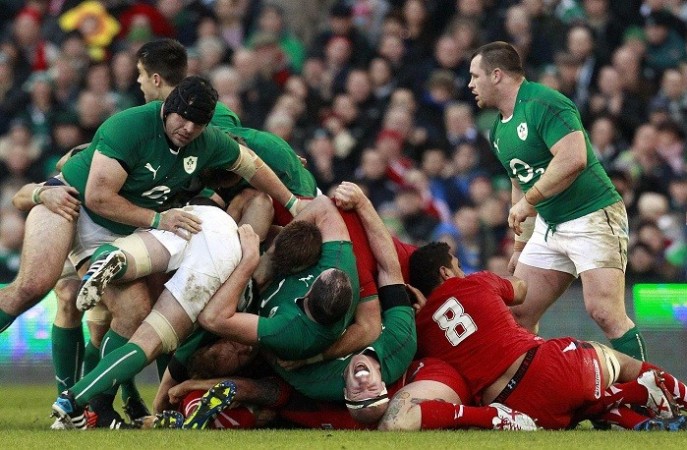 Ireland are eyeing a Grand Slam, and the next team in their way towards that goal is England as the two rivals face-off in the Six Nations at Twickenham on Saturday.
Where to Watch Live
The game is scheduled for a 4 pm pm GMT (8 pm IST) start with live coverage on Sony Six in India. The match is not available for live streaming online in the country, but UK viewers can watch the action live online HERE or HERE. Live stream the game in Australia HERE, while New Zealand viewers can watch the action HERE. The game can be live streamed in the US HERE, while the Middle East and North Africa viewers can go HERE. Viewers in rest of Africa can catch the action through live streaming HERE.
The Irish have made as good a start as possible to this year's Six Nations, thumping Scotland in their opener, before outclassing defending champions Wales a couple of weeks ago.
However, both of those matches were played at the familiar confines of the Aviva Stadium in Dublin, and this Ireland side will have to prove their mettle away from home if they are to hold any serious hopes of completing the tournament with a perfect record.
"This is the biggest game I have ever played in," Chris Henry said. "There is no point in trying to hide it. It means something, a Triple Crown. I have won a Churchill Cup with Ireland 'A' in Denver, what was that four years back?
"Before that I never won the Schools Cup, I never won the Medallion Shield, I haven't won anything with Ulster. This is it. There is a trophy on the line, it is the biggest game I have played."
England, who will be without Dan Cole for the rest of the Six Nations, lost to France in their opener - an agonising loss - before bouncing back with a comfortable victory over Scotland.
Flanker Tom Wood has called for the Twickenham crowd to back England against one of their fiercest rivals in Ireland. "A desire to beat us has been ingrained in them for a long time," Wood said. "Emotionally, they've been brought up in it. Rugby is a very emotional game and when a team brings that collectively you've got to match it.
"For us, at our home, in front of our fans, we want to be setting the tone in terms, enthusiasm and physicality, and making sure it's us dictating the terms to Ireland, not the other way around.
"The Twickenham crowd is a very polite crowd. They're passionate but there isn't the hatred for the opposition we perhaps feel when we go elsewhere. That's a double-edged sword.
"There's nothing I like better than turning up somewhere where your backs are against the wall, you're being spat at and told you're not good enough. Nothing spurs me on more, or unites a team more, than that.
"We're not asking for that from our fans. We just want them to be proud of us and, hopefully, we'll give them plenty to cheer about. We want people to look at us and see what it means to be English."
The match will also be a momentous one for the evergreen Brian O'Driscoll, who will equal George Gregan's record for the most Test caps with his 139th appearance.
"To be honest I didn't play Test rugby so I wouldn't be the best to judge, because I would think one Test would be phenomenal," Ireland coach Joe Schmidt said. "Where I grew up in a black jersey it would have been phenomenal, so how you manage to amass 130 of them, I'm not quite sure how you do it.
"You have to be incredibly resilient, incredibly talented, a phenomenal professional, and there's your summary: that's Brian O'Driscoll. I think he's a very tough character, and the person he is allows him to be the player he's been, and hopefully the player he will be on Saturday at four o'clock."