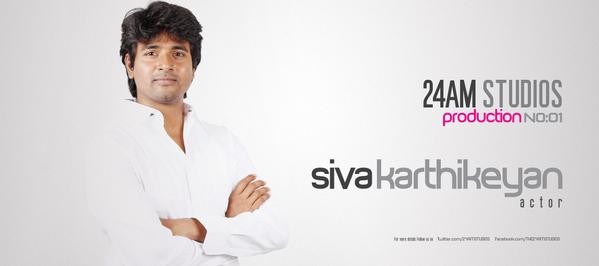 The upcoming movie of "Kaaki Sattai" star Sivakarthikeyan will be written and directed by debutant Bakkiyaraj Kannan and will be the first production venture of RD Raja under the banner 24 AM Studios.
The production company has roped in the best from the industry for this venture, which is poised to be a giant leap for Sivakarthikeyan, say trade analysts.
The cinematography of the yet-to-be-titled film will be done by PC Sreeram, while Anirudh Ravichander will compose music. Oscar winner Rasul Pookutty will take care of sound editing.
Sean Foot of Weta Workshop will hold the brush, while art direction will be handled by T Muthuraj. Editing will be done by Antony L Ruben. Action and stunts will be the responsibility of 'ANL' Arasu and cosutumes will be handled by Anu Parthasartahy.
With the announcement of the crew, the industry is now awaiting the announcement of the rest of the star cast. Movie buffs, who are excited about the latest announcement, hope the star cast is equally impressive.
Meanwhile, Sivakarthikeyan is awaiting the release of his movie "Rajini Murugan", the trailer and songs of which have already created waves among the audience.
My first Venture as a Producer #SivasNext under My banner @24AMSTUDIOS..thanking my brother&friend @Siva_Kartikeyan. pic.twitter.com/WIDLVtJfIe

— RD Raja (@RDRajaofficial) July 1, 2015
#SivasNext will be the first venture of our production house - @24AMStudios - a small step towards a giant leap. Project details from 11am! — 24AM STUDIOS (@24AMSTUDIOS) July 1, 2015
Actor @Siva_Kartikeyan is the lead of @24AMSTUDIOS first production. pic.twitter.com/VqddSMXKGj

— 24AM STUDIOS (@24AMSTUDIOS) July 1, 2015
@RDRajaofficial begins his first venture as a producer under his banner @24AMSTUDIOS pic.twitter.com/3k5U5gQYRy — 24AM STUDIOS (@24AMSTUDIOS) July 1, 2015
Bakkiyaraj Kannan to write & direct the Production No.1 of @24AMSTUDIOS pic.twitter.com/9rj4iRuTkY

— 24AM STUDIOS (@24AMSTUDIOS) July 1, 2015
@PCSreeram ace cinematographer joins the @24AMSTUDIOS team pic.twitter.com/CewIwvrrzg — 24AM STUDIOS (@24AMSTUDIOS) July 1, 2015
This film will be a rockstar musical, @anirudhofficial is the music director of our project pic.twitter.com/Lwthwae7Gm

— 24AM STUDIOS (@24AMSTUDIOS) July 1, 2015
Sound designing for the first venture of @24AMSTUDIOS to be done by Oscar winning @resulp pic.twitter.com/ulfvu84ZTJ — 24AM STUDIOS (@24AMSTUDIOS) July 1, 2015
Sean Foot of Oscar award winning @wetaworkshop collaborates with @24AMSTUDIOS first venture. pic.twitter.com/Xn4lkUFuZT

— 24AM STUDIOS (@24AMSTUDIOS) July 1, 2015
Acclaimed Art Director, T Muthuraj is roped in for our first Production pic.twitter.com/bIYjbgSCyU — 24AM STUDIOS (@24AMSTUDIOS) July 1, 2015
✂️ @AntonyLRuben takes charge of editing department for our first venture! pic.twitter.com/B3Qb0k1DMD

— 24AM STUDIOS (@24AMSTUDIOS) July 1, 2015
India's top action director'ANL' Arasu joins the production team. pic.twitter.com/G9iGs9eKf3 — 24AM STUDIOS (@24AMSTUDIOS) July 1, 2015
Leading designer @anustylist to design costumes for the project. pic.twitter.com/fIT56dG5qb

— 24AM STUDIOS (@24AMSTUDIOS) July 1, 2015