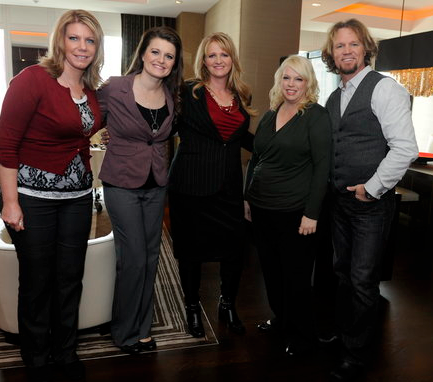 Fans of TLC's reality show "Sister Wives" may not get to watch the Brown family's drama unfold in the upcoming seasons. According to a report on Radar Online, cast members Meri, Janelle and Christine are planning to quit before the next instalment begins filming.
"Behind closed doors it's miserable. There's a ton of tension and no one is happy," RadarOnline quoted a source as saying,
The website also claimed that Kody Brown's family has fallen apart after his ex-wife Meri Brown's catfish scandal became public. The reality star, who thought she was dating a man online, was later revealed to be a woman named Jackie Overton. In fact, this disastrous affair was the highlight of Season 6 of "Sister Wives."
Overton's novel, "Almost Meri'd," is a second hand account of the fights and the friction in the Brown family. An excerpt published on the website via Life and Style Weekly describes a physical altercation between Meri and one of the sister wives. The passage reads: "She told me in one really bad argument she was pregnant with her daughter and her sister wife grabbed her by the shoulders and kneed her right where the baby was."
Radar Online also reported that Janelle's decision to leave the show and focus on her real estate career is partly to make herself financially secure.
It appears that Kody and his wife Robyn, whom he married after divorcing Meri, might be the sole focus of Season 7.