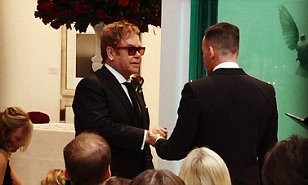 After about nine years of civil partnership, Sir Elton John and David Furnish said "I Do" to each other on Sunday morning.
The pair married under a new law that the government in England implemented in March this year, allowing same-sex marriages.
On Instagram, the couple posted a picture of themselves just before signing the official documents, with a caption: "That's the legal bit done. Now on to the ceremony!"
The 'Can you feel the love tonight' singer posted another picture, this time of the ceremony, holding Furnish's hand while the guests gazed. The picture's caption read: "The exchange of vows. #ShareTheLove."
The two had entered into a civil partnership in 2005. They are raising two children, Zachary Jackson Levon Furnish-John and Elijah Joseph Daniel Furnish-John.
John, 67, and Furnish, 52, had the wedding celebration at their home near Windsor Castle west of London. According to a post by John on Instagram, people from across the world were invited. He promised to post pictures of the event on the social media for his fans.
The star guests include musician Ed Sheeran, actor David Walliams, Elizabeth Hurley, the Osbournes and the Beckhams. The couple's two sons were the ring bearers.
Friends and family shared their joy with the Beckhams' eldest son Brooklyn posting a picture of his mother Victoria and himself at the wedding. In a post he congratulated the couple saying: "Amazing day with family and special friends congratulations Uncle Elton and Uncle David #ShareTheLove."
Walliams said it was a "magnificent" day, while Hugh Grant tweeted: "Groom Groom - Britain races into the future. Congrats Elton and David. Congrats enlightened UK," BBC reports.
The couple had planned a traditional and sophisticated menu. According to another picture posted by Brooklyn Beckham, the menu included wild mushroom sourp wit truffle cream, beef short rib with caramelized onion pie and warm chocolate pudding with vanilla ice cream for dessert.
Britain is the 15th country to legalise same-sex marriage.
John and Furnish met in 1993. John proposed to Furnish in May 2005 and the couple entered a civil partnership on 21 December, 2005. They married on the same day this year.
"We had our big shebang when we had our civil union but we will (have a wedding)," John told Sky News earlier this year.
"I think it's a great opportunity to take advantage of the new laws and to celebrate. We're very lucky in this country to be able to have that advantage and to have that position to be in."