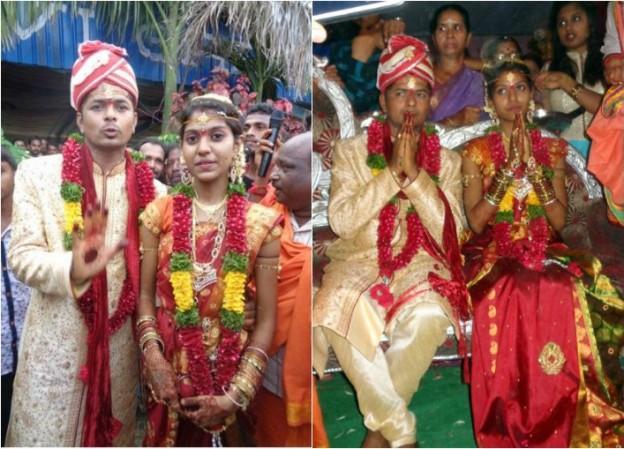 Telangana folk singer Madhu Priya (Madhupriya), who made it to the headlines over her controversial wedding with Srikanth on Friday, has said her marriage will not affect her career.
Madhu Priya, who turned 18 a month ago, tied the knot with Srikanth on Friday. Her family was not happy with it as they thought that it would affect her career. So the singer sought the help of the police and got married to her boyfriend with police protection at Sirpur Kagaznagar in Adilabad district.
Later in a statement to Sakshi TV, Madhu Priya said, "I know Srikanth from the last two years. We both stay in the same area and know each other very well."
Having dated each other for two years, the couple recently planned to take their relationship to the next level. "My family was worried that my career would be finished after my wedding. I tried my best to convince them," she added.
Madhu Priya defended her decision to marry Srikanth. "My family members thought that Srikanth is not famous person and he is poor. But money or status doesn't matter to me. What matters for me is good heart. I wanted to marry a guy whom I like and I have done it. I am happy with my decision," she said.
Meanwhile, she denied that her marriage would affect her career. "I am doing my first year LLB. I am very well aware of my goals. Even Srikanth knows about them and I am confident that he will support me. In fact, he has been helping me and supporting me in every possible way from the day I met him. I don't think the marriage will affect my career," she said.
"I wanted to do LLM and I am doing it, but I am not very about becoming a lawyer after my studies. I want to dedicate my future to social service. I will continue my career of singing even after marriage and there is no doubt about it. My life is nil without singing," she added.
Her husband Srikanth says that he will not be an obstacle in her career. "I am very happy to tie the knot with a celebrity like Madhu. I requested her parents to attend our wedding, but they did not turn up. I am confident that they will accept our union in future. I assure them that I will not spoil her career and I will support her in all possible ways," he told Sakshi TV.
When asked how his career, Srikanth said, "I am working as a sales person in a construction company. I have planned to continue the same after marriage. I have also got small business plans."
Click the video below to watch complete the couple's interview: