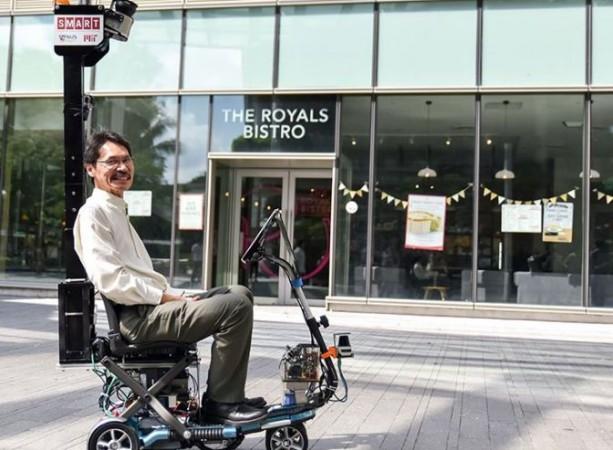 If you still think self-driving car technologies are in its infant stage, researchers in Singapore have unveiled self-driving mobility scooter taking the technology to another level.
Developed by the National University of Singapore (NUS), the one-seater, four-wheel equipped scooter weighs just 50 kg and it travels at a top speed of 6kmph. The scooter boasts of laser sensors to help navigate around obstacles.
The scooter has undergone successful tests on campus and developers said it can help improve mobility for all ages, cut down on the need for cars and also lower accident rates. "I'm sure you have experienced people who just use their hand phone while walking, and almost run into you ... so it would be nice if you are just sitting down and checking your e-mails," said National University of Singapore associate professor and project leader Marcelo Ang Jr. "We just give you more choices," he added.
Target users for the self-driving scooter are people who "cannot, should not, or prefer not to drive," including the elderly, disabled, or the very young. This project, supported by the National Research Foundation under its Campus for Research Excellence and Technological Enterprise programme, is currently in its trial stages. Further testing on usage of the vehicle on the road is in progress.
In August this year, Singapore deployed world's first self-driving taxis on the road. These smart taxis are operated by an autonomous vehicle software startup called nuTonomy. The company has said that their goal is to have a fleet of self-driving taxis by the year 2018. The firm has planned to release six such cars initially. The firm said that it hopes these cabs can help in relieving the congestion on Singapore roads. They also added if this model works, it could be adopted by the cities around the world.