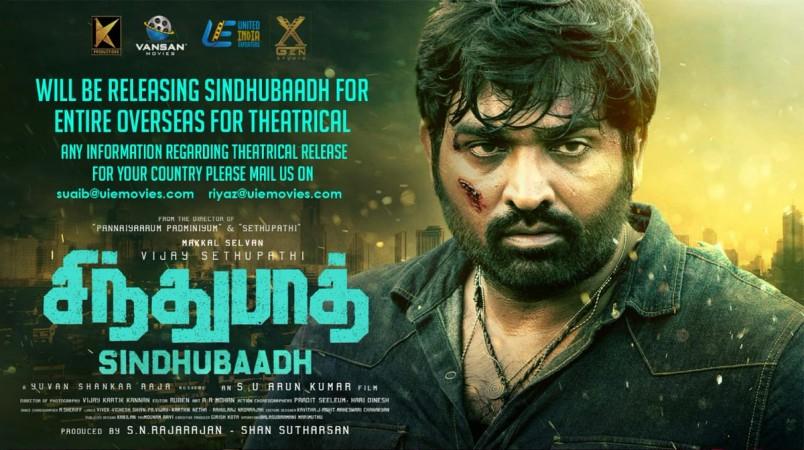 After much issues, Sindhubaadh has finally seen the light of the day on Thursday, 27 June, but not before some of the morning shows in parts of Chennai were cancelled.
Sindhubaadh was scheduled for release on 21 June, but it was postponed following a stay court order brought by the makers of Baahubali over their financial dispute with the producer, SN Rajarajan. The issue was not sorted till Vijay Sethupathi chipped in to solve the issue between the two parties.
Industry insiders say that Vijay Sethupathi contributed a part of his remuneration to settle the issue. As a result, the movie, despite cancellation of morning shows in parts of Chennai, has hit the screens.
It is an action thriller, directed by SU Arun Kumar, with comedy and romance. Sethupathi has paired up with Anjali in the Tamil flick, which has Vivek Prasanna, Linga and many others in the supporting roles. The film has Yuvan Shankar Raja's music, Ruben's editing and Vijay Karthik Kannan's cinematography.
The film has piqued the viewers' interest with trailer. Will it live up to their expectations? Will the makeup for the disappoint with caused to the delay with a solid content?
Analysis: Going by the viewers' words, the light-hearted scenes has worked in favour of the film. Vijay Sethupathi shines in the masala flick. Check out the audience's response to the Tamil flick below:
SIVASANKAR M: #Sindhubaadh. A charming first half....A small let down by usual climax gimmicks of tamil films.. And @yoursanjali ...Wow...you are born talented.... This girl very easily defeats @VijaySethuOffl
Christopher Kanagaraj: #Sindhubaadh - After a flat start & cliched romance film picks up slowly towards d interval & shifts to Thailand. Post interval its a brainless show. Vijay Seth - Anjali - Surya hv done well. Weak villain. Gud music by Yuvan. Story justifies 'only' d title & not d screenplay
Sadique: Done watching #Sindhubaadh.. @VijaySethuOffl comedy is working well.. but action scenes could have been better.. screenplay, especially in second off doesn't have any control.. movie entertains u partially but could have been better
Prashanth Rangaswamy: Still wondering how a sensible actor like @VijaySethuOffl accepted to do such immature stunts that will only bring laughter among audience ! #Sindhubaadh .
Dakshin: #Sindhubaadh a neat and nice commercial flick #arunkumar is one very few director who shows the mass side of @VijaySethuOffl na @yoursanjali yet another sweetest performance #suriya a true rock star ☺and my thalaivan @thisisysr songs and bgm both was very good as usal✌✌
Sidhu: #Sindhubaadh: Vijay Karthik Kannan is a talent to watch out for, as his cinematography is solid with some really unique camera angles. Just wish that some of his laudable work wasn't spoiled on the DI table by using some Instagram-like filters.
#Sindhubaadh: Strongly feel that #VijaySethupathi isn't the go-to man for action films; another star in the role would have helped the film become better. VJS rules the roost in the comic portions, but his lazy elegance doesn't contribute when the film turns serious.
#Sindhubaadh: Decent dual genre entertainer that has a fair share of good moments. Liked the light-hearted parts more than the action. Not the kind of result that I expected from this combo, but not downright bad either. Watchable!
#Sindhubaadh Interval: Progressing decently. Travels on a lighter vein until the pre-interval portion, with Surya Sethupathi being the best man in the frame. Action-packed second half awaits.
Haricharan Pudipeddi: #Sindhubaadh is a decent action comedy that's powered from start to finish by a terrific @VijaySethuOffl and a equally good @yoursanjali, who shines particularly in the emotional portion. The film needed a better second half to have worked wholesomely.
Rajasekar: Liked #Sindhubaadh first half, quite engaging. As usual @VijaySethuOffl steals the show with ample comic relief moments with his son #SuryaSethupathi. @yoursanjali as the bold and independent Tenkasi girl is impressive. @thisisysr BGM
Kaushik LM: #Sindhubaadh 1st half - Dop Vijay Kartik Kannan impresses with his visuals, color tones and treatment. Tenkasi and Thailand look grt on screen. Talented technician
Wish @VijaySethuOffl - @yoursanjali pair up for few more films. Their romance chemistry is lively & vibrant..
karthi: #Sindhubaadh - weakest film of #SUArunKumar - @VijaySethuOffl combo. Usual commercial action movie where the hero rescue his wife from skin trafficking gang,Visuals and bgm are positives but screenplay is dragging and boring at most parts .
Disappointed.
Sanju Ravi: #Sindhubaadh : Average Product from Vjs & Arunkumar combo.. Disappointed for me (Second half) ..
Only console Vjs & Anjali portion in First half..loved it..
Rating : 2.5/5
DrSenthil kumaran: First half engaging so far.Both VJS and Anjali chemistry work aayiruku.Yuvan BGM nice. photography top http://notch.Movie travels in a leisurely pace with subtle comedy.Towards interval block, action scenes in Thailand well picturized. Waiting for second half #Sindhubaadh
Vijith Amirthalingam: #Sindhubaadh 1st half - Fairly frames so far. @yoursanjali looking good @thisisysr's usual bgm #VijaySethupathi and his son traverse throughout the first half.