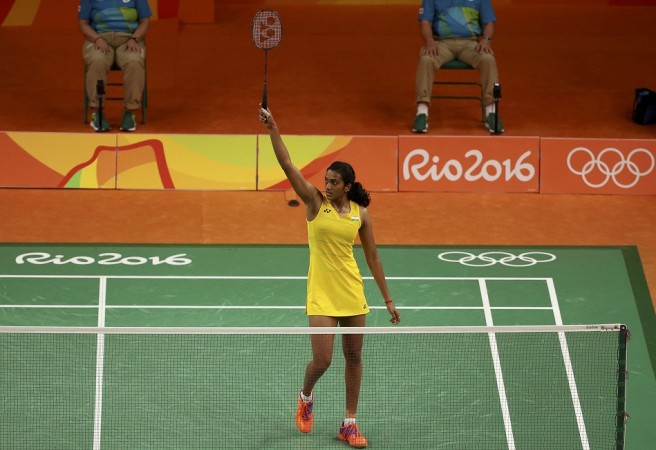 PV Sindhu couldn't cope with the challenge brought Tai Tzu Ying in the final of the Hong Kong Open 2016 badminton tournament on Sunday. Nevertheless, she came close enough to pocket her second consecutive BWF super series title and that remains impressive.
The 21-year-old had a massive chance of clashing swords with her compatriot Saina Nehwal in Hong Kong in the semifinals of the tournament, but that couldn't transpire as Saina was already beaten in the quarter-finals.
Indian badminton fans would have loved seeing the two get head-to-head. Saina and Sindhu, interestingly, have faced each other only once so far -- in 2014. Saina had gone 1-0 up then. Can they face each other once again after a gap of four years? The answer remains yes.
The Indian will be in action at the Macau Open Grand Prix Gold badminton tournament, beginning Tuesday. Sindhu and Saina are clubbed in two separate halves and there is a huge opportunity that if both can reach all the way, they will clash swords in the final of the tournament, scheduled for this Sunday, with $120,000 on the line.
Sindhu, vying for her fourth badminton title in the tournament, is a hot favourite to make it to the final, but nothing much can be said of Saina, 26, who has struggled after her return to badminton in China Open 2016, following a knee surgery.
Both the women's badminton stars start their campaign in the competition on Wednesday. Here is the schedule:
PV Sindhu Macau Open Grand Prix Gold 2016
Opening match: against Yue Han (China)
Saina Nehwal Macau Open Grand Prix Gold 2016
Opening match: against Hanna Ramadini (Indonesia)
Other notable matches:
Sameer Verma (India) vs Milan Ludik (Czech Republic)
P Kashyap (India) vs Guo Zheng Sim (Malaysia)
HS Prannoy (India) vs Chun-Wei Chen (Chinese Taipei)
Sai Praneeth (India) vs Lam Hou Him (Macau)