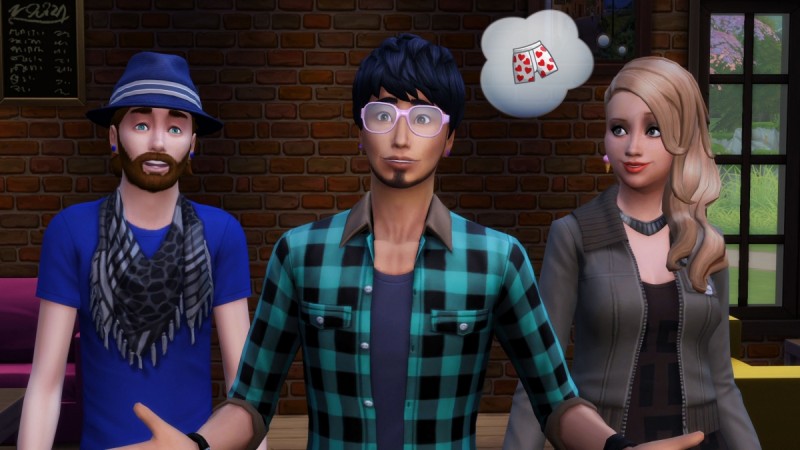 The Sims 4 is all set to rekindle the hopes of its loyal fans as the development of the upcoming video game is going on positively.
The new game is just like its predecessors. Players will be able to control all their Sims activities and relationships. There is no predefined goal and it has an open-ended gameplay.
Players of Sims 3 will realise that the 'Create a Sim' tool has been redesigned so that now players will be able to change features by clicking and dragging a body part. The Build mode is also updated with new features have been added.
The Sims 4 will have death by laughter, which is a new method of dying that has been included in the game. In the new game, rooms and houses can be fully moved even after it is completed.
EA Maxis reportedly assured support for user content creation in the game. Simsvip, a fan website, has outlined some of the details of what to expect from the Mod support in The Sims 4.
Here are the some of the expected changes in mod support for Sims 4:
Directory for Mods in the user data folder.
Custom Content Technology Document with data formats that will help creators avoid conflict with what has been done in the game. This document will be expanded on as we go along.
Dedicated Modding Section section on The Sims 4 Official Forums for feedback, discussion, and issues.
Game options panel contains section for mods (Script and Non-Script).
Here is a 10-minute gameplay trailer of The Sims 4
(YouTube Courtesy: PC Gamer)
Check out the 17-minute trailer here.
(YouTube Courtesy: Official EA UK)
System Requirements
The official system requirements for The Sims 4 are as follows:
Internet connection for product activation
Operating Systems required: Windows XP (SP3), Windows Vista (SP2), Windows 7 (SP1), Windows 8, or Windows 8.1
Processor: 1.8 GHz Intel Core 2 Duo, AMD Athlon 64 Dual-Core 4000+ or equivalent (For computers using built-in graphics chipsets, the game requires 2.0 GHz Intel Core 2 Duo, 2.0 GHz AMD Turion 64 X2 TL-62 or equivalent)
Memory: At least 2 GB RAM
Hard Drive: At least 9 GB of free space with at least 1 GB additional space for custom content and saved games
DVD-ROM: DVD ROM drive required for installation only
Video Card: 128 MB of Video RAM and support for Pixel Shader 3.0. Supported Video Cards: NVIDIA GeForce 6600 or better, ATI Radeon X1300 or better, Intel GMA X4500 or better
Sound Card: DirectX 9.0c Compatible
DirectX: DirectX 9.0c compatible
Input: Keyboard and Mouse
13 Rewards from Sims 3
EA announced that players of The Sims 4 will be getting some new rewards if they have played Sims 3. It said in a post on its official website that players who played Sims 3 and are also owners of The Sims 4 can expect to be rewarded when they enter the game. The reward will be available in Build Mode catalogue.
Here are the 13 rewards that Sims 3 players will be able to unlock in The Sims 4:
Let There Be Plumbobs Award (The Sims 3 base game) - "Thanks for playing The Sims 3! Let this lamp light up your Sims' world in The Sims 4."
Never Ending Reward (World Adventures expansion) - "You're well traveled! Bask in the glow of this dynamic lamp and celebrate your many adventures."
Shine On Reward (Ambitions expansion) - "Be proud of your ambitions. You've earned this shimmering lamp in The Sims 4."
UV Light Reward (Late Night expansion) - "Congratulations! This lamp was specially designed for Sims who love the night life."
Beacon Of Ages Reward (Generations expansion) - "May your Sims be illuminated by this lamp for many generations to come."
Paws Anonymous Reward (Pets expansion) - "Only your love of animals could outshine this lamp."
Your Name In Lights Reward (Showtime expansion) - "Your Sims bask in the glow of the spotlight. Bravo!"
Enchanted Aurora Reward (Supernatural expansion) - "May this mysterious lamp intrigue your Sims in The Sims 4."
Whatever The Weather Reward (Seasons expansion) - "Commemorate seasons past with this lamp in The Sims 4."
Alma Mater Reward (University expansion) - "May your Sims' educational hijinks shine forever in The Sims 4."
Truly Tropical Reward (Island Paradise expansion) - "This incandescent reward is a happy reminder of paradise."
Time Travelers Reward (Into the Future expansion) - "This light illuminates your past travels to the future."
Release Date
The Sims 4 is scheduled for release on 2 September for PC.