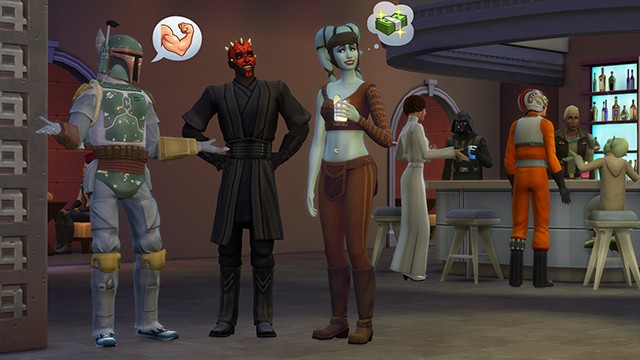 The Sims 4 creators, Maxis and The Sims Studio along with publisher Electronic Arts, have been wishing Star Wars fans "May the Fourth Be With You" on Star Wars Day and have revealed that the simulated game is all set to get some new character skins toeing the same theme.
The Sims 4 players will be getting The Phantom Menace's main villain, Darth Maul, the bounty hunter Boba Fett, and Jedi Master Aayla Secura. This will let players dress up their character and either fight for the dark side as Darth Maul or for the light side of Force with Aayla Secura.
These new costumes have been now made available according to the post on its official website. The new update does not cost anything and will be automatically downloaded when players login with their Origin account.
Last year, The Sims 4 game received similar Star Wars themed character skins, which allowed players to dress up as Princess Leia, Darth Vader, a Rebel Flight Suit and a Yoda for child Sims.
"It might not be Halloween yet, but that doesn't mean you can't throw awesome Star Wars-themed parties in The Sims 4! Just be sure to keep the Sim dressed like Darth Vader away from the Sim dressed like Darth Maul – we don't want to fall into any plot holes, here. Happy Star Wars day everyone!" said the post.
The Sims 4 was released on 2 Spetember, 2014 for PC and Mac systems.
New 'Go to School' Mod
Players of The Sims 4 will be able use a new 'Go to School' mod that allows their Sims to enlist in elementary and high school. It features many events like going to field trips, hunting collectible items and experience costume parties outside of home that will reportedly improved school life among the Sims.
Tumblr user, Zerbu has detailed how the mod has helped expand his gameplay experience below (via IBTimes Australia):
Elementary School – Follow children Sims to school and complete three introductory days before unpredictable events occur.
High School– Teens Sims enrolling in high school will have to complete two introductory days then attend classes with goals based on the current day.
Field Trips – Student Sims can now be sent to museums, libraries and gyms. Granite Falls can also be a chosen location if Outdoor Retreat has been installed.
Weekly Collection Hunts – Weekly activity among student Sims to hunt for collectible items. A student Sims can also experience to be sent in hidden lots or Granite Falls to hunt rare items.
Costume Days – Experience wearing costumes every Wednesday among elementary student Sims.
Hookie – Cutting classes through Hookie enables student Sims to run off from classes and have fun.
How to Install the Mod?
Download the Base Mod file. Choose between the Venue List mod or the newest version of Ambience Mod Mini package for new venue types to appear.
Make sure that the "Get To Work" expansion pack is installed or the game mod will not work.
The game must have a school lot in order to get the game mod to function properly. Players can get it from the Gallery by selecting Lot filter tag > Elementary School or High School. Set the chosen school lot as Elementary School or High School in the Build mode.
Sometimes, the chosen lot is not automatically recognised to the Career Events System. To fit this issue, set the chosen lot and change its type to something random > exit the Build mode > re-enter to Build mod > change the lot type to the correct one.
(NOTE: This is not an official EA Games mod and IBTimes India is not responsible for any errors arising. Make sure to create a back of your save file.)