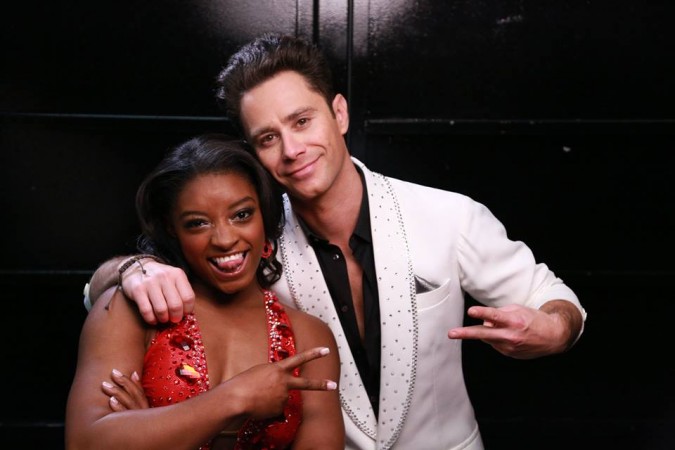 Simone Biles was called out by Dancing with the Stars judges for not being expressive enough during her two performances on Monday night. But the Olympic gold medal winner was not in a mood to take it lying low.
"I feel like I don't know you yet," judge Carrie Ann Inaba said after Biles and her partner Sasha Farber performed their Foxtrot to What Makes You Beautiful. Inaba urged the 20-year-old to showcase more raw emotions while performing.
Also read: Pretty Little Liars Season 7 finale spoilers: THIS Liar is set to join Team AD?
After their second dance, Inaba was again harsh with her criticism, saying it was better than her first performance, but she still had issues with it. Biles did not look happy with these words and when host Tom Bergeron asked her why she wasn't smiling from the compliments, Biles responded, "Smiling doesn't win you gold medals."
Was Biles' reaction immature? Should she have accepted the criticism and compliments with grace?
A good number of netizens believe the judges have been unnecessarily harsh towards the Olympic gold medalist, and therefore Biles' reaction was apt.
Here are a few gems from Twitter:
Simone Biles: "Smiling doesn't win you Gold Medals"
S.A.V.A.G.E #DWTS pic.twitter.com/byTFrfaSyN

— Balkîssa (@nathybarry18) May 9, 2017
me when @Simone_Biles said "smiling doesn't get you gold medals" #DWTS #DWTS24 pic.twitter.com/e5E706T7DQ — katie (@fwitterkatie) May 9, 2017
Oh, @Simone_Biles. How much do I love that response? "Smiling doesn't win you gold medals." That is why you're a champion. #DWTS

— Jeremy Pond (@JeremyPond) May 9, 2017