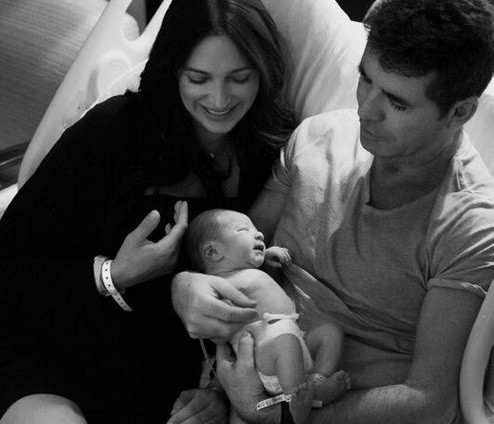 Simon Cowell, who became a father for the first time on Valentine's Day when his girlfriend gave birth to a healthy boy, shared three new pictures of his newborn son on Sunday with his Twitter followers.
In one of the pictures, the baby, named Eric after Cowell's father, is seen nestling in the arms of the proud father.
"I never knew how much love and pride I would feel," Simon captioned the picture. "Now you can see how very handsome little Eric is."
Another photo of Cowell with girlfriend Lauren Silverman and the baby is captioned: "Mum, Dad and Eric. Now two days old."
Eric's arrival has exposed Cowell's pals to another aspect of his personality. On his various reality shows, Cowell comes across as a rude judge, whose sole aim is to rip apart the contestants.
"He is so excited," Terri Seymour, a journalist who dated Cowell for six years, told the New York Daily News. "It really is a change for him, but he is ready."
Another friend of Cowell's told the publication that the 54-year-old has not stopped smiling since the birth of his son. "Simon's the happiest I have ever seen him," added the source. "He's a complete natural and hasn't stopped smiling."
Meanwhile, a lot is being said about Cowell's decision to name his son after his late father, Eric Philip Cowell, who died of a heart attack in 1999. He was 81 at the time.
Eric has been a huge influence on "The X Factor" judge and the Daily Mail noted that the senior Cowell was as popular with the ladies as his son. Eric was married three times and fathered five children, and it is no secret that Cowell adored his father.
It was Eric who helped Cowell get a firm landing in the music industry, and whenever anything good happened, Cowell made sure to call Eric first.
But Eric did not live long to taste Cowell's success, and by naming his newborn son after his late father, Cowell is giving him a fitting tribute.
"Simon wanted to pay proper tribute to the influence of his late father in his life. Eric Philip is clearly a very proper and respectful tribute to the man," a source told Metro.