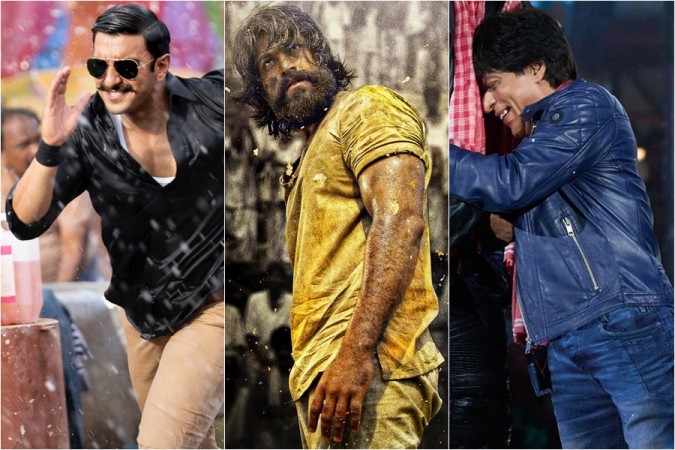 Last Friday, Ranveer Singh's Simmba arrived in cinema halls like a thunderstorm with a chest-thumping slogan called 'Aala Re Aala Simmba Aala' and washed away Shah Rukh Khan's Zero and Rocking Star Yash's KGF from the box office. The Rohit Shetty has now crossed yet another milestone in just 7 days of its release and will be here to continue dominating the domestic market.
While Simmba, which was released across 4020 screens in India, has crossed Rs 150 crore in its first week, Shah Rukh Khan starrer Zero is still struggling to reach Rs 100 crore mark even when it was released one week prior to Simmba release.
On day 3, Simmba crossed Rs 50 crore mark, on day 5, it crossed Rs 100 crore mark and on day 7, it crossed Rs 150 crore mark taking the total movie's box office collection to Rs 150.81 crore.
"#Simmba roars and scores at the BO... Crosses ₹ 150 cr mark in Week 1... Glowing word of mouth has converted into footfalls... Fri 20.72 cr, Sat 23.33 cr, Sun 31.06 cr, Mon 21.24 cr, Tue 28.19 cr, Wed 14.49 cr, Thu 11.78 cr. Total: ₹ 150.81 cr. India biz. SUPER HIT," Taran Adarsh tweeted.
While Simmba is showing no signs of stopping, Zero has almost exhausted its run at the box office. The Shah Rukh Khan starrer is moving at a snail speed thanks to Simmba which is offering more entertainment and masala to the audience. Not only domestic, but Simmba is also cementing its foot in the international market. Zero has earned Rs 87.90 crore so far.
"#Simmba is OUTSTANDING in international markets... Concludes Week 1 on a glorious note... Collects $ 8.408 million [₹ 58.62 cr]... Breakup...
Fri: $ 1.884 mn
Sat: $ 1.590 mn
Sun: $ 1.492 mn
Mon: $ 779k
Tue: $ 1.414 mn
Wed: $ 694k
Thu $: 555k," Taran Adarsh tweeted.
Rocking Star Yash's KGF, on the other hand, may have slowed down a bit because of Simmba but it has maintained a strong hold especially in the Mumbai-Maharashtra circuit for its Hindi version. The screen counts have also been increased because of its superb run at the box office.
"#KGF biz at a glance...
Week 1: ₹ 21.45 cr
Week 2: ₹ 11.50 cr
Total: ₹ 32.95 cr
India biz.
#KGF screen count has increased in Week 3...
Week 2: 780
Week 3 [starting today]: 951
Note: HINDI version," Taran Adarsh tweeted.