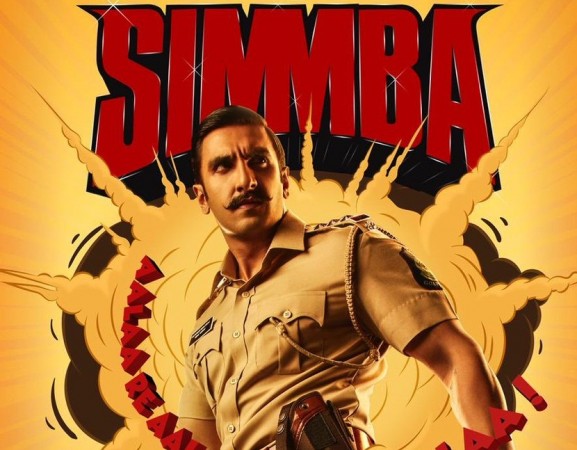 Simmba (Simba) starring Ranveer Singh, Sara Ali Khan and Sonu Sood will be released across India on December 28. A special screening of the movie was held in the UAE, and a few critics have already come up with their review.
Directed by Rohit Shetty, Simmba features Ranveer as a corrupt police officer, whose conscience wakes up after he comes across a brutal rape of a girl he is close to. Sara plays his love interest in the movie, and Sonu is the main antagonist. Simmba also has a special appearance by Ajay Devgn and Akshay Kumar.
While special screening of the film in India will be held at 7 pm on December 27, some critics in the UAE have already seen the movie. Initial reviews of Simmba are extremely positive.
Sara also portrays her character well and Sonu adds value to the plot. Action and dialogues are also being appreciated. Ajay and Akshay's special appearance also apparently have good significance.
As Simmba is an official remake of South film Temper, comparisons between the two are bound to be made. However, initial reviews from the critics suggest that the makers of Simmba have done a good job, and it is going to be a hit.
Check some of the Simmba reviews and ratings below:
Khaleej Times: Ranveer proves a complete package -- here's an actor who can dance like a dream, do action like a true star, crack jokes and, when the situation demands it, specially in the second half of the movie, turn serious. Shetty's tried and tested formula works well enough for 'Simmba' to keep us hooked to our seats. He even pulls in his favourite Ajay Devgn towards the end as Inspector Bajirao Singham in an extended cameo. And just when you think you've seen it all, Shetty manages to pull off a major coup at the end -- guess who's slated to don the police officer's uniform in 2019? (4/5)
News18: Simmba- the film, undoubtedly, will benefit from this embrace and will add up to magical numbers, taking Ranveer Singh to the new stratosphere of stardom, where he clearly belongs. (3.5/5)
Times Now: Overall, Simmba works for three reasons - Rohit Shetty, Ranveer Singh and the dialogues...and also that epic cameo by Ajay Devgn (okay, four reasons). This is Rohit Shetty's tribute to the cop dramas of the '70s and '80s, so don't expect anything logical. Just go in and have fun. (3/5)
Mumbai Mirror: Shetty navigates a familiar ground here in this formula filmmounted on a franchise that has proven its worth in box office gains. It's not a film that will encourage one to rethink fundamental theories or alter societal thought, even though it aspires to be at one point. But it's surely a masala entertainer that packs in laughs, drama, dishooms and a lot more – now that's more than you can expect for a multiplex ticket.
Gulf News: The good vs evil tale is predictable, but isn't yawn-inducing and a timely cameo from Ajay Devgn, the hit star of Shetty's Singham series in which he played an irreverential police officer, liven things up. The climax is cracking, but the movie isn't consistently good. (2.5/5)
Times of India: But overall, Simmba is a potboiler that you expect it to be, where the good surely outweighs the bad. There are enough paisa vasool moments including the cameo by the original Singham, Ajay Devgn. And it doesn't end there. Shetty leaves you with a parting shot of another superstar already revealing the first look of his offering in 2019. (3.5/5)
Masala.com: Shetty lacks finesse as a filmmaker to pedal a social crusade. Apart from using it to manipulate the audience, there's no sincerity in his rebellion that's packed with innumerable slow-mo shots to glorify his men in uniforms - and, there are three of them in here! Yes, with a promise of another adventure unfolding in 2019. It's ironical, and highly unforgivable, that a movie that attempts to empower women, doesn't even give its female characters much to do, barring handing them token lines so their Simmba can play hero.(1.5/5)
Hindustan Times: This is Shetty's best work, a film of unflagging tempo with a genuinely charismatic lead, and while the actual story — about a bad cop who starts avenging rapes — isn't interesting or original, Shetty keeps it entertaining, albeit longer than it should be. We can debate the need for these throwback films, and there is indeed a problem with the way rape is used as a trigger for the leading man to turn good, but, as it stands, Simmba is not only ahead of Singham, but far superior to Dabangg, the blockbuster that defines the genre. (3/5)
NDTV: Simmba is the kind of film that derides toxic masculinity while ill-advisedly celebrating unbridled virility as a necessary component of law enforcement. Instill fear in the hearts of the wrongdoers, Singham advises Simmba. And how, pray, do you do that? Simmba advocates throwing due process out the window and embracing another flagrant form of lawlessness. And that can only be dangerous. So watch Simmba if you must. But here's rider: do not imitate its methods - at home or in society. (2/5)