India's Prime Minister Manmohan Singh has announced relief to the victims of the last night's earthquake, in which 48 people were killed and more than 100 injured.
The 6.8 magnitude earthquake struck the state of Sikkim and its neighboring states. The Prime Minister has sanctioned an ex-gratia of 200,000 rupees each from the Prime Minister`s National Relief Fund to the next of kin of the persons deceased and 100,000 rupees each to those who were seriously injured in the earthquake.
The quake was followed by three more jolts, according to the Indian Meteorological Department. These quakes measured 5.7, 5.1 and 4.6 in magnitude and were also felt as far away as Bangladesh. Nepal and Tibet have also reported more than 15 deaths so far in the quake, besides considerable damage to buildings and roads.
Many constructions in Sikkim developed cracks, including the Sikkim Manipal University building and key roads to the hills have been badly damaged, reports said.
More than 4,000 people have been deployed for the rescue operations including the personnel of the Indo-Tibetan Border Police (ITBP). They have launched search and rescue operations in the badly affected Pegong area of north Sikkim.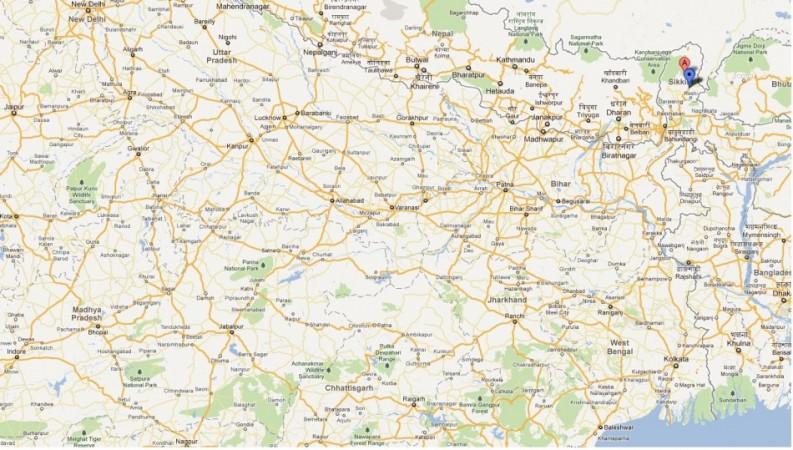 The ITBP rescued 15 foreign tourists and 150 villagers in their operations so far. They were moved to battalion headquarters. Rescue operations are, however, hampered by heavy rainfall and landslides, reports said.
"Four teams of the National Disaster Response Force (NDRF) were rushed to Sikkim and five more teams were being sent from Kolkata," Cabinet Secretary Ajit Kumar Seth said.
Meanwhile, Prime Minister Manmohan Singh has called up Sikkim Chief Minister Pawan Chamling and offered the Center's help.
The tremors were felt in the neighboring north and eastern parts of India, including Lucknow, Patna, Kolkata, New Delhi and the National Capital Region.
"The earthquakes of the Strong tremors were also felt in parts of North and East India and parts of Bangladesh and Nepal, causing widespread panic. The epicenter of the quake is said to be just 64 km North-West of Gangtok," reports NDTV.
In Bihar, a seven-year-old girl was among the dead while Latehar region was one of the worst hit. Two people have died in the region so far and wide cracks were visible on houses. Roads also cracked in several places.
Four more deaths were reported from West Bengal. Of the five people killed in Nepal, three casualties were reported from Kathmandu, where the British embassy collapsed and smashed a car.
In Lucknow, Patna, Kolkata, New Delhi and the National Capital Region, the tremor caused thousands of people running out of their homes.
The NDRF personnel, including 20 doctors, were in the northern city of West Bengal Siliguri to help and rescue those who are trapped due to earthquake.
The main Siliguri-Gangtok highway is currently blocked at 25 places and the army has been pressed into service to repair the highway. Ten engineer columns were moved from Siliguri to clear the four blockages in the route.
Many victims were shifted to relief camps in Kalimpong in West Bengal.
Sikkim's capital Gangtok went without power after the quake and even Darjeeling are in West Bengal was affected. Telephone lines have also snapped in some parts of Sikkim while phone lines are reported to have been congested in West Bengal.
Five Indian Air Force planes have also been pressed into action for relief operations. Small Army columns in Sikkim have also been mobilized following the earthquake.
The quake was the fourth this month.
The first quake in India was reported in Manipur's Ukhrul district on Sept. 4, and its intensity was 4.2. The second, on Sept. 7, was also of low 4.2 intensity in Haryana's Sonepat, sending tremors even in New Delhi.
The third on Sept. 11 occurred in Gujarat's Kutch region, but its intensity was a mere 3.4.
LATEST UPDATES ON EARTHQUAKE:
* Border Roads Organisation restores traffic on National Highway No.31 .
* 105 columns of Army personnel in rescue operation.
* Army provides shelter to 1500 persons and is running ten langars.
* Four ALH and Five Cheetah Helicopters on standby at Sukna Military Station.
* One MI-17 Helicopter at Bagdogra for distribution of food packets.
* Two Army personnel died near Zima, North Sikkim.
* One Junior Engineer of BRO reported killed during rescue operation.
* Two C-130J, One IL-76 and One Avro Aircraft left NCR last night carrying NDRF personnel, sniffer dogs, search and rescue teams and medical personnel.