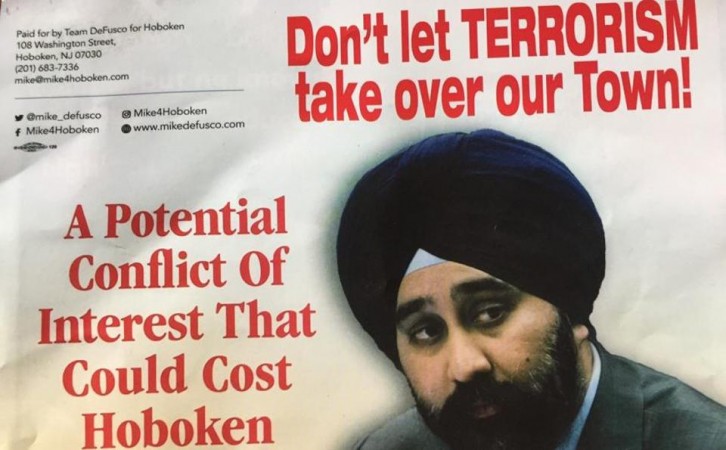 A Sikh politican, who is running as a mayoral candidate for Hoboken city in the upcoming polls in New Jersey state, has been branded as a terrorist in flyers which were left on windshields of cars on Friday night, just days before the election.
According to media reports, the flyers targeted Ravinder Bhalla, who is the first Sikh to hold elected office in the American state.
The flyers had a picture of New Jersey Councilman Bhalla. In red letters above him, the flyers read: "Don't let terrorism take over our Town!", New York's Daily News reported.
The report state that the leaflets seemed like a modified version of the mailers sent out by another mayoral candidate Mike DeFusco. DeFusco's flyers had accused Bhalla of having potential conflict of interest.
DeFusco however condemned the altered flyers and released a statement on Saturday, saying: "Today I spoke out not only against the racist, disgusting flyers targeting Ravi Bhalla that appeared last night and was made to look like it came from my campaign, but also against the rest of the hate that has been shamefully displayed throughout this race."
The mayoral candidate added that he has also been a victim of hateful rhetoric in the past and was accused of being a part of a "crime family" and was also attacked for his sexuality. If elected, DeFusco would be Hoboken's first gay mayor.
Yesterday, a flyer w/ word "terrorist" above a pic of me was circulated in Hob. Of course this is troubling, but we won't let hate win. pic.twitter.com/Ri9xrYF4Al

— Ravinder S. Bhalla (@RaviBhalla) November 4, 2017
Bhalla also addressed the flyers accusing him of terrorism and called them "troubling" in a statement. "We won't let hate win in Hoboken," he said.
"I want to use this incident as an opportunity to affirm to each other and our children the value of living in a diverse community where we are judged by the content of our character - not by the colour of our skin or how we worship," Bhalla said in the statement.
US Senator Cory Anthony Booker also condemned the flyers, calling it "vile" and "hateful", saying "We all must condemn bigotry & hate!" on Twitter.